As has already been pointed out by others, the Model 3 is equipped with an interior facing camera as standard. This along with more is all part of the new self driving technology that's in the car. But what other features have been included to help with a fully autonomous future?
Everyone always looks at a car from the perspective of the owner driving the car. They ask what they need to do that task, do I want red paint or blue? Do I want the long range or the standard version? But what happens if we flip it instead? What features do you put in a car that will be added to the Tesla Fleet? A car that will be ferrying passengers around with no one else inside to supervise.
Self Driving Technology – Internal Cameras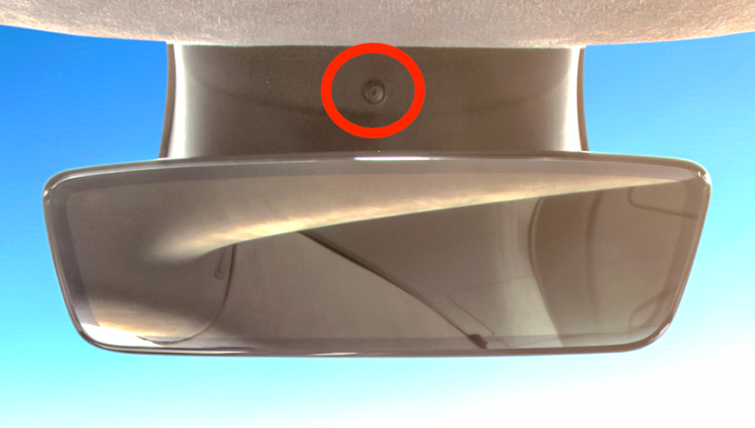 For one, that interior facing camera now makes a lot of sense. Not as a driver monitoring camera, but instead a security camera. What are the riders doing? Have they damaged the car? Did they leave it in a messy state? A camera recording every move a person makes is a proven security measure. One that greatly helps to stop unwanted behavior before it starts. You could even keep an eye on your kids while you send them (in your autonomous Tesla) over to your parents' house!
There's also the matter of how you unlock the doors. Picture a Model 3 rolling up to take you to your destination. There's no person inside so how do you get in? With a traditional car you'd need a physical key or at least a key fob. The new Model 3's main unlock method is through the Tesla smartphone app.
With the app controlling the locking/unlocking of the car things make a lot more sense. You simply assigning door unlock privileges to the paying passenger and in they get.
Self Driving Technology – Interior Compartments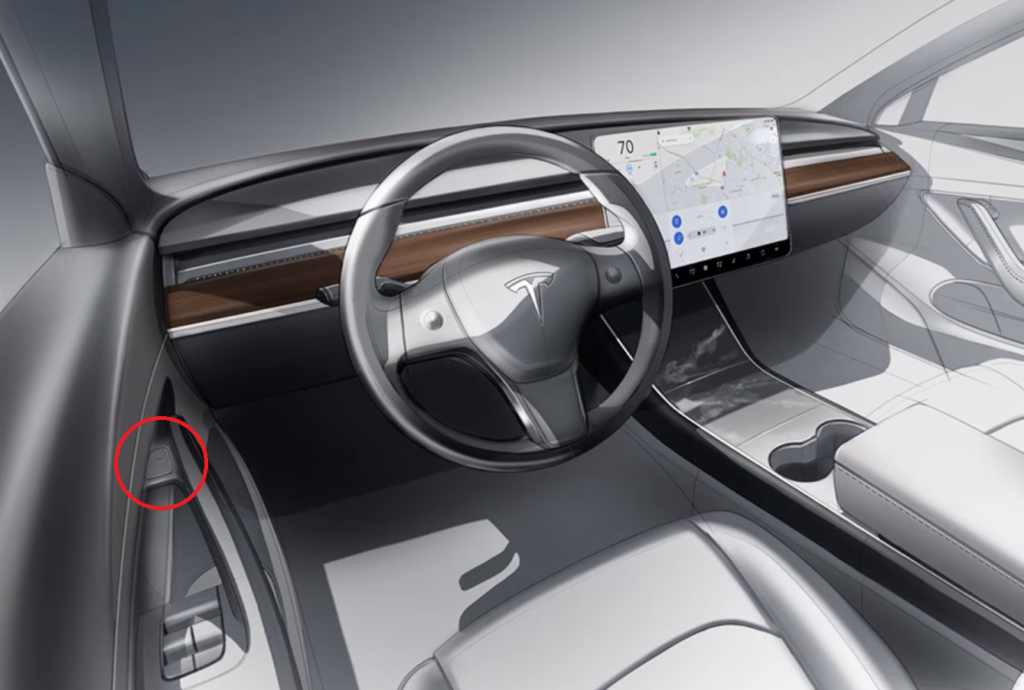 Moving back inside the car we take a closer look at the doors. It's been noted that they have buttons to open them rather than traditional handles. Similarly the glovebox and center console storage areas all have to be opened via the center screen. Traditionally you'd just have a normal handle on them.
This design seems like an overreaction to making the interior as minimalistic as possible (remove all the things!). But again it could actually be for self driving reasons. This way you can systematically lock down everything while the car is self driving.
The last thing you want is some random passenger rummaging through your glove box! There could be sunglasses, personal documents or other valuable things in there. With electric seats in the front, it might even be possible to have the car lock the two front doors, move the two front seats all the way forward. They could bend the top parts of the seats towards the front of the car too.
The end result would all but eliminate the possibility of any riders being able to sit up front. This would also greatly maximize the space in the back seats making it as comfortable as possible. One thing Tesla still needs to address is damage to the car itself. These sorts of details will likely get released once the Tesla Fleet is launched. According to Elon Musk, this should be as soon as true self-driving is approved by regulators.
Will you be allowing your Model 3 to join the Tesla Fleet when it's enabled? Let us know how you feel about it in the comments below.
For the newer readers... if you've just bought a new DJI Drone or are interested in learning more about how to fly them and get professional videos... You'll probably like our awesome new course: DJI Drones: How To Become The Ultimate Pilot - Fly with confidence, get professional videos, stay safe and get in the air quickly!
The benefits include: 1) How to get those silky smooth videos that everyone loves to watch, even if you're new 2) How to fly your drone, from taking off to the most advanced flight modes 3) Clear outlines of how to fly with step-by-step instructional demonstrations and more 4) Why flying indoors often results in new pilots crashing their drone 5) What other great 3rd party apps are out there to get the most out of your drone 6) A huge mistake many pilots make when storing their drone in the car and how to avoid it 7) How to do all of these things whilst flying safely and within your countries laws.
76% OFF CORONA CONTENT SALE!!!