So I'm finally back home after an insane week running around at CES 2020. From drones to AI to self driving cars and even exoskeletons there was a huge amount on display. Walking for over 20 hours and covering approximately 40 km's across four separate days I only got see everything once.
Across those days though I got to see and try out lots of things and many peaked my interest. Over the next few weeks I'll be posting a number of pieces covering both new products that were released as well as my overall general opinion of different tech and companies whilst I was there.
To begin with though I thought I'd dive straight into the traditional "compute" industry. From laptops to screens or action cameras there was everything on display so let's dig in!
Razer Not So Sharp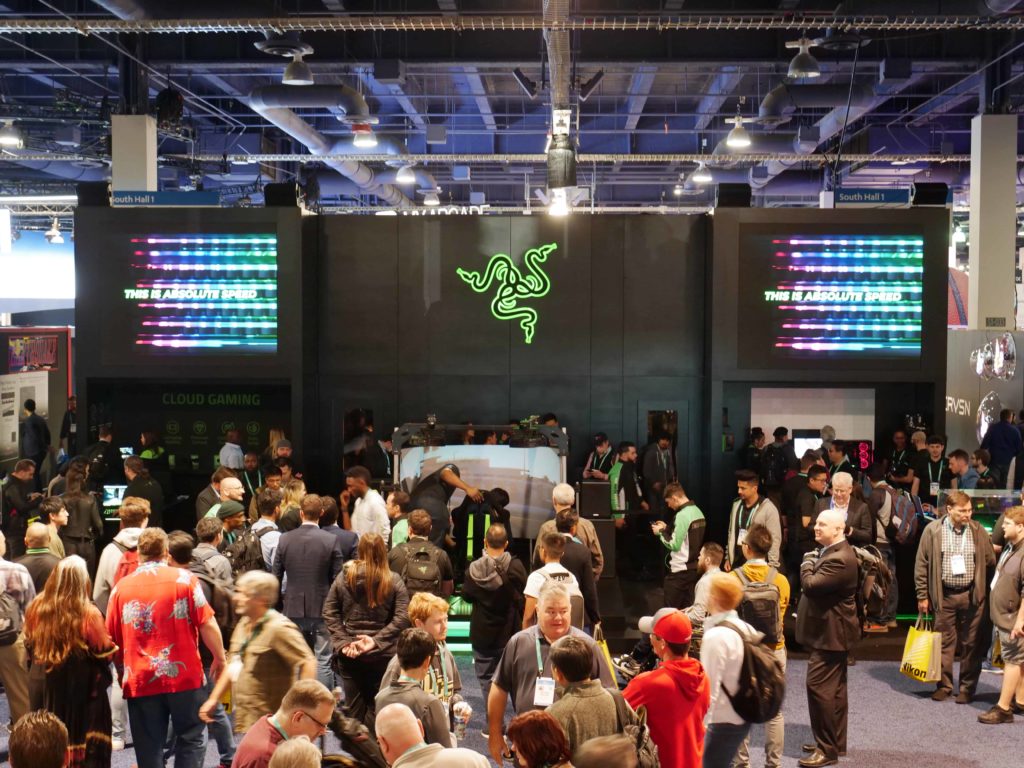 Upon walking into the South Hall at CES the first thing you could see was the Razer booth. With its bold black and green colour scheme it certainly grabbed my attention and I rushed over to see what goodies they had in store.
However while they did have a very cool driving simulator their main consumer item seemed to be their new Tomahawk Modular PC concept. This is a highly compact PC that essentially has the motherboard, CPU, RAM and SSD built all into a custom "card" type thing you slot in and out of the case as shown below.

The actual case itself (and PSU) seems to really be the only thing Razer has made but either way it's not something I can see taking off. They've gone and made PC's, which are already "modular" and for the most part tool less, worse.
Rather than being able to choose your motherboard, CPU, RAM and SSD from any manufacturer you're now stuck with these proprietary card board things. You can't vary your specs as easily, you can't mix and match manufacturer parts anymore and I can almost guarantee this new architecture will be more expensive.
They claim that it's "easier" and more compact but I would argue that most modern day PC builds now only require a screwdriver and can also be built quite compact. Anyone who can't handle building a PC and wants to pay more for someone else to do it will essentially just go buy one from Dell or Origin etc too.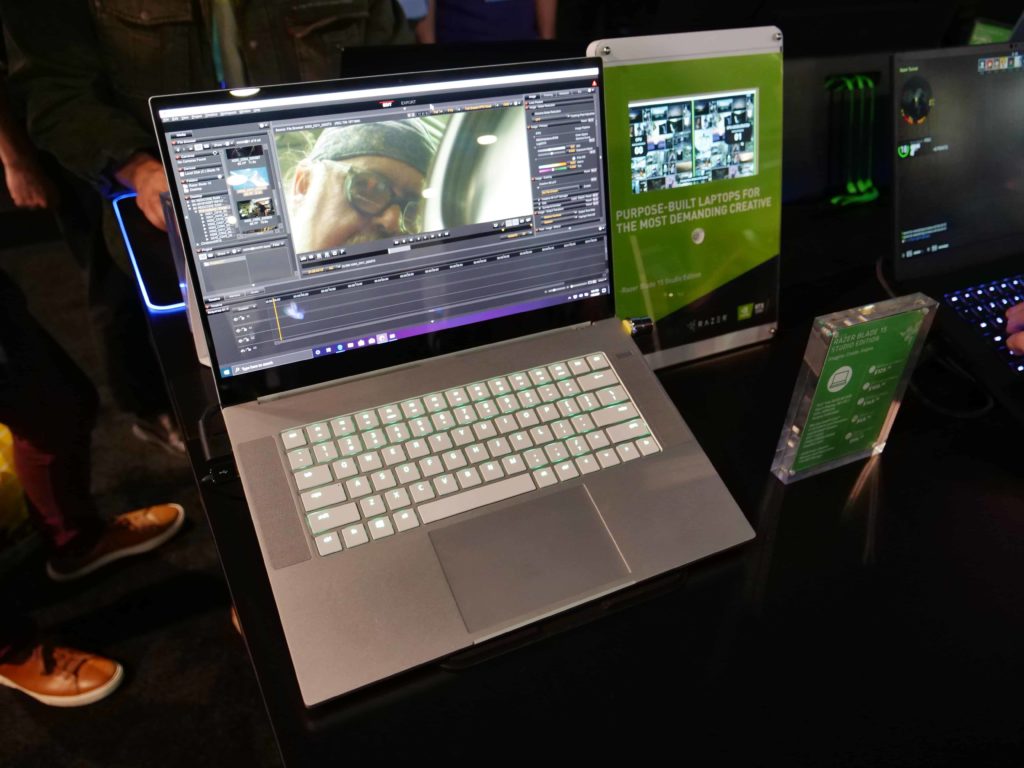 Beyond that one concept they also had a very expensive 15″ laptop specifically made for content creators which was very cool. Sporting a Quadro graphics card and a 4K OLED panel this monster will go for $4,000 USD (likely about $7,000+ AUD if it even comes here).
Dell Builds A Winner!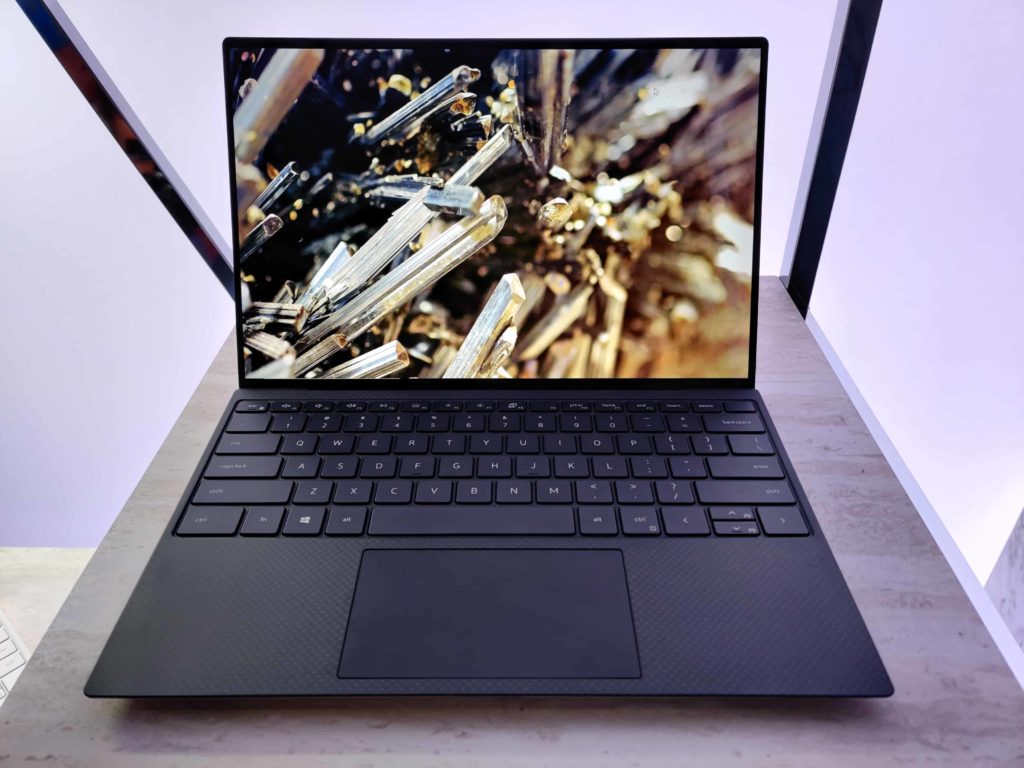 Moving onto Dell they had a number of fantastic things to show off. To me though the most exciting was their just released XPS 13 laptop. While they've recently refreshed their 13″ 2-in-1 laptops it's now the regular clam shell designs time.
Giving this unit a thorough look over there was basically nothing I could fault with it upon inspection. Dell has made some great iterations on it and it's essentially perfect.
If I had to pick one thing it's missing, it would be a USB Type-A port. Talking to the rep he mentioned that it just wasn't possible to physically fit one in as the laptop itself is too thin. They did get everything else right with Thunderbolt 3 ports on both sides that also charge on both sides too.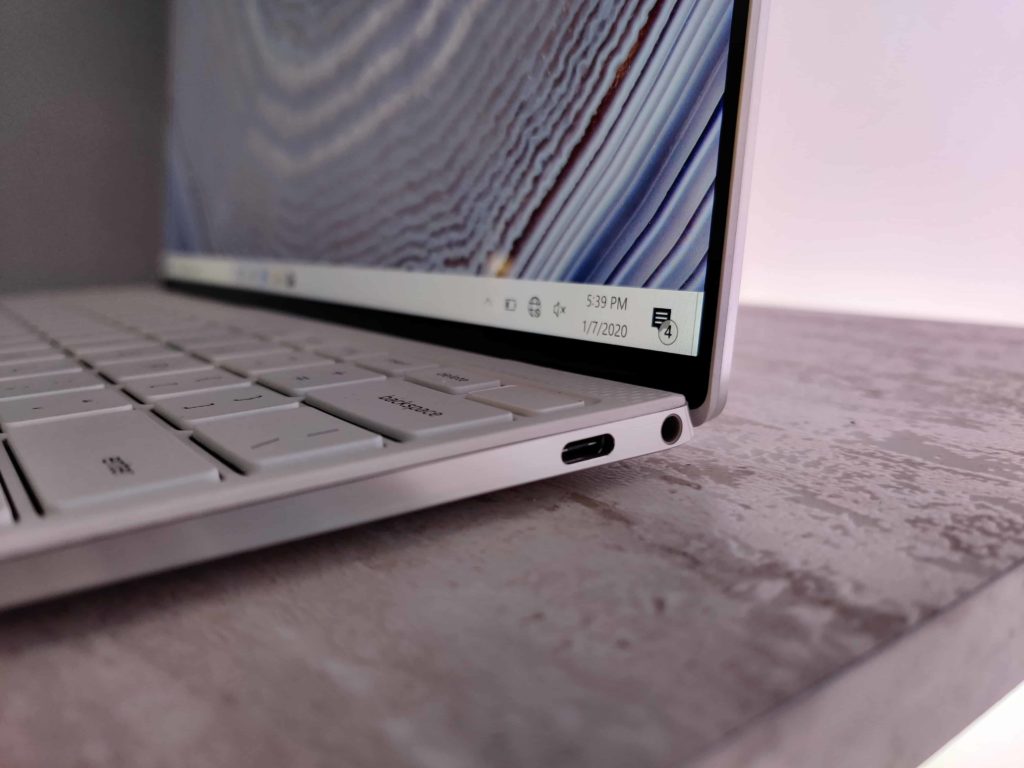 The screen looked fantastic and pushes right to all edges as a new laptop should, good riddance to bezels! It's also a 16:10 aspect ratio giving you more vertical room for web browsing etc. I'm still not sure which style I prefer though as while extra browsing room is always welcome, I hate having black bars while watching 16:9 video content.
All the other specs looks great too such as 10th gen Intel processors and its 1.2 kg weight. This weight was actually decently noticeable when you picked it up as although it wasn't "heavy" per say… it did seem to be heavier than it should be. The weight was also very much pushed towards the back of the laptop too.
Insta360 One R Looks Amazing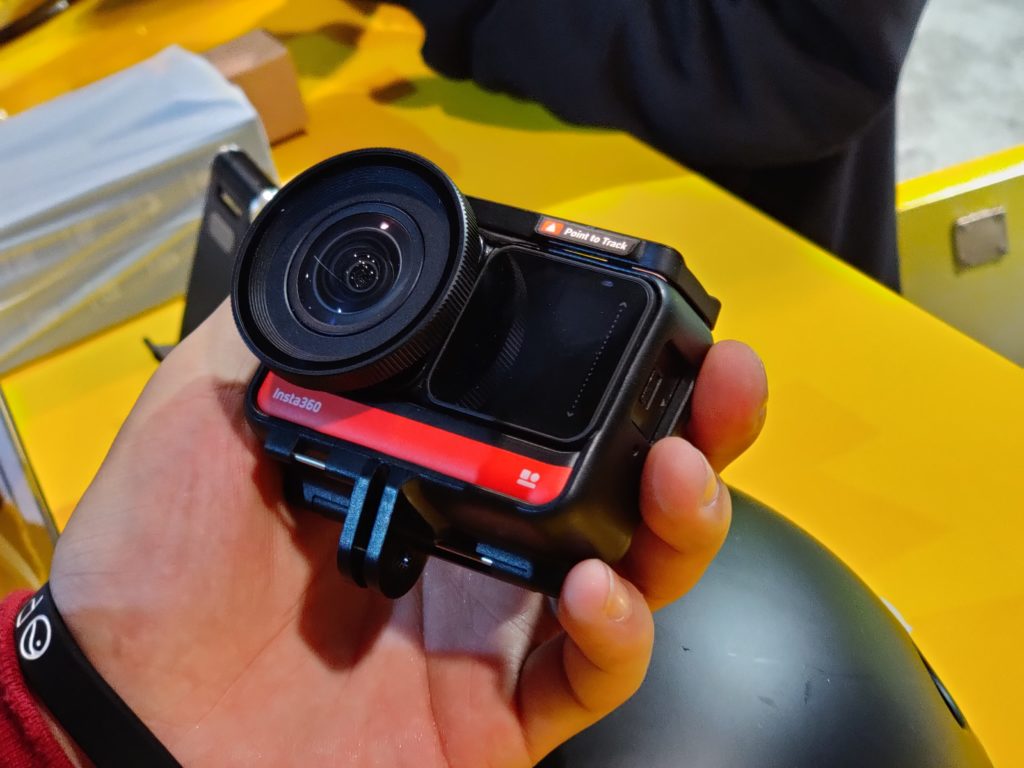 Next up in the Insta360 booth there was something quite special, the Insta360 One R. This is essentially an action camera built like a traditional DSLR camera is. The battery, body/screen and lens is all modular and interchangeable.
The body/lens and battery aren't really that special as they never change (just like a DSLR) but you can swap out the lens section for multiple different types. A 360 degree dual lens, a wide angle 4K lens and a 1″ sensor Leica developed 5.7K lens.
This means you can have the same camera in your pocket that captures fantastic low light and full 360 degree videos. They'll also be releasing a number of custom mounts for things like DJI Mavic drones so you can capture 360 degree drone footage as seen below.
Even without the swapable lens system it's simply an all round great looking package. Waterproof, great software experience, many advanced features and so on. You can order it now online with it shipping Jan 17th. Use the coupon code CES2020 for a free selfie stick too!
It's only fall down seems to be its rather high price as it costs almost twice as much as something like the DJI or GoPro equivalent. That being said you're getting twice the camera so…
EKR Wireless Charging Pads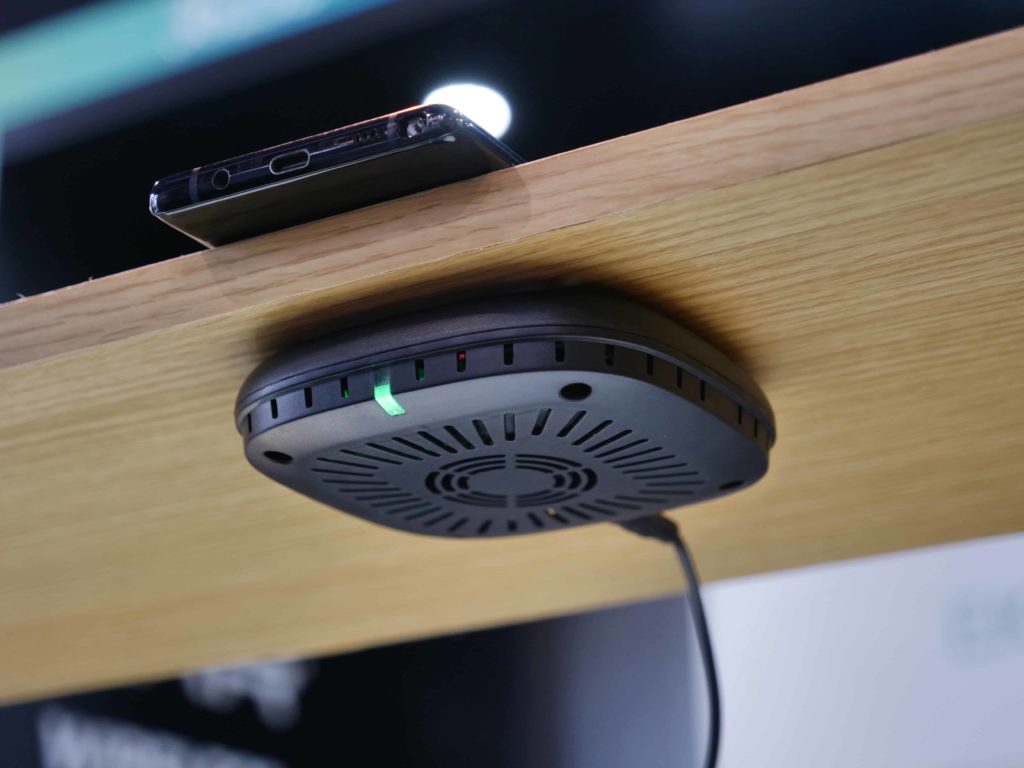 Among the literally thousands of chargers, wireless chargers, battery banks and docks on show one in particular caught my eye. Made by a Chinese company called EKR they're doing something I've wanted all wireless chargers to do for a long time now, charge through tables.
If you've ever wondered why a wireless charging pad has to be on top of the table and look ugly you can blame the Qi wireless charging standard. Anything with this standard can only charge phones a few mm's away due to power requirements and so going through a whole bench or table top isn't really possible.
The EKR one on the other hand can charge through 2.5-5 cm of wood or plastic! This means you can use the included 3M tape on it and adhere it to the underside of your bedside table. From there you simply put your phone on top of the clean, neat table and voila! Wireless charging with no ugly cables or pads to see!
Speaking to the rep he said that both 5W and 10W models would be coming to Australia "soon". You can get some more info on their site here.
Aukey Insanely Small 100W Charger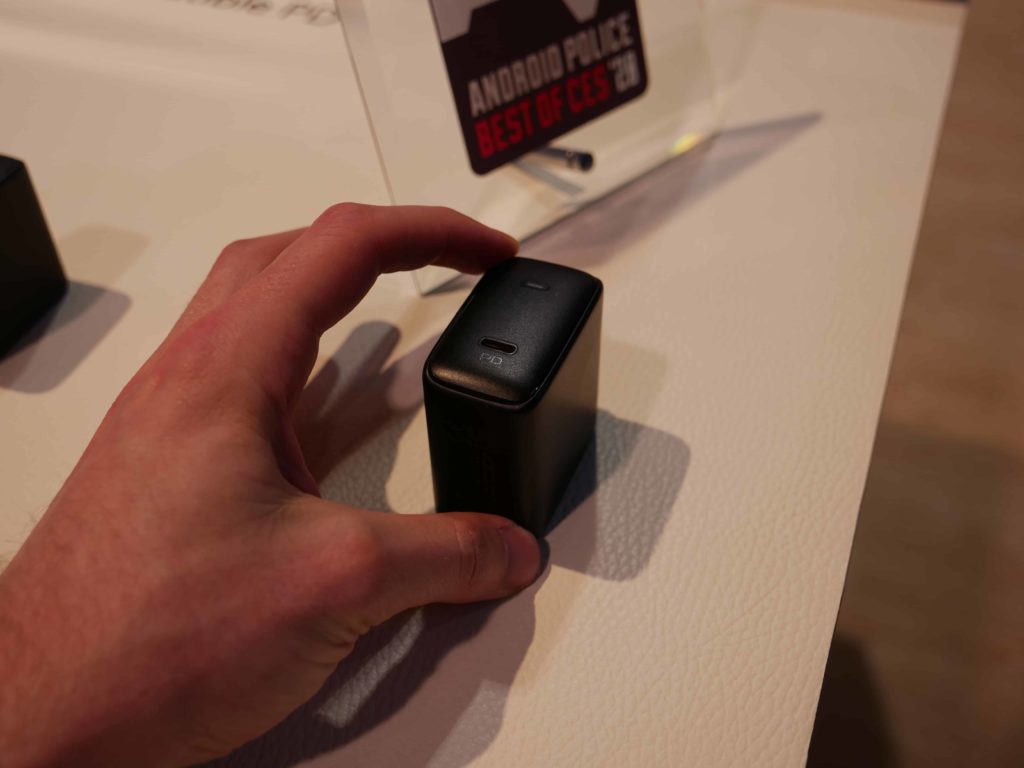 The other thing that seriously caught my eye was the Aukey 100W wall charger. This thing is tiny! As you can see above it's about the size of your standard mobile phone charger except while those ones might do 15-30W… this one puts out 100W!
For anyone travelling often and that has a number of devices this would be amazing. Just take it and you can charge all your devices from phone to tablets and even high powered laptops like the Razer Blade Stealth.
It maxes out the USB PD spec and does so with even more smarts inside according to Aukey. Called the Aukey Omnia PA-B5, it's not even on their website yet it seems, but it's something to keep an eye on as it'll be able to charge literally anything and everything once released.
While the photo above gives you an idea of size the rep noted that it'll come with two USB Type-C ports so you can easily quick charge your laptop and phone together. Availability was pegged at about Q3 for Australia and it'll be available mostly through their Amazon store.
ieva Time C Watch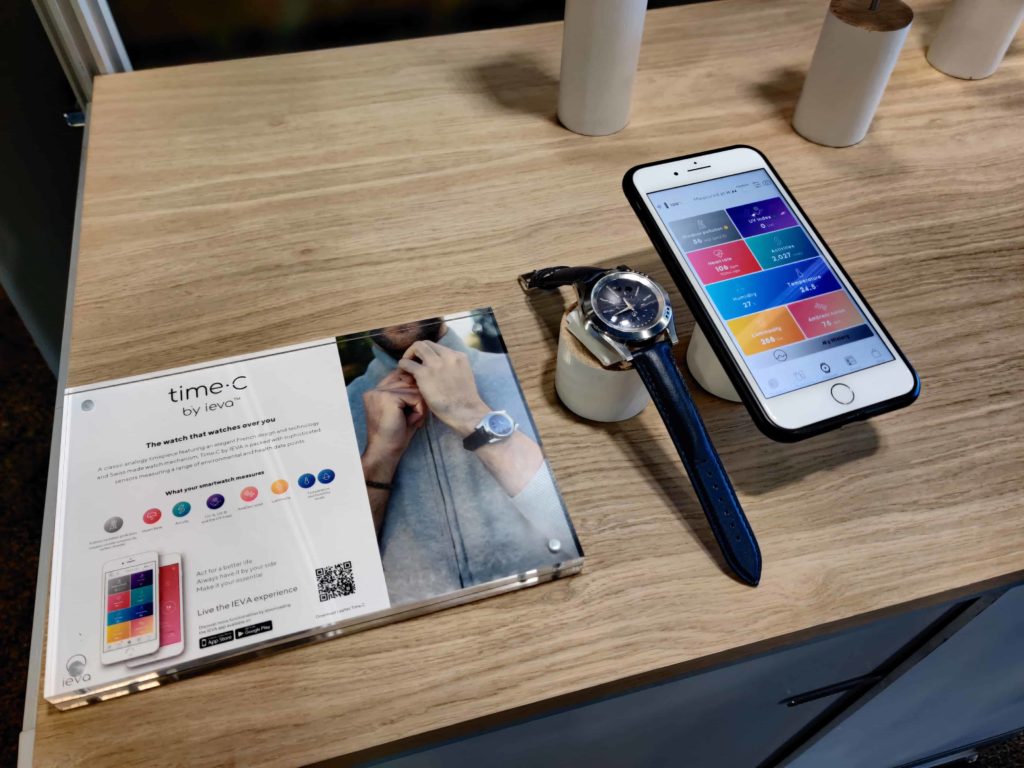 Next up there was a very interesting smart watch by the company ieva. While there's a ton of smart watches, Fitbit's and so on all out there one thing I've been wanting them all – including our smartphones – to do is to incorporate more sensors and hardware capabilities.
I mean sure, my Fitbit can monitor my heart rate 24/7 or tell me if I got a good nights sleep but there is so much more to monitor! This is where ieva's Time C watch peaked my interests as it monitors:
Pollution Levels (eg. PM2.5 levels)
UV Index
Humidity and Temperature
Luminosity (eg. 500 lux)
Noise Levels
It measures more than that, but the above points are things that most other health or smart devices completely miss. They're all quite important too as things like pollution levels or UV directly effect your health. Getting proper light exposure is also hugely important for sleep rhythm and knowing when you're in too noisy an environment is extremely handy too.
I really hope that all "smart" device companies take proper notice of this and cram those sensors in ASAP as development of Fitbits or phone sensors seems to have kind of hit a plateau over the past few years which is disappointing.
Getting personal alerts saying things like "UV is too high, you've been outside in direct sunlight too long" or "your current environment is too loud" or "pollution levels are dangerously unhealthy right now" would be quite valuable to me.
Samsung For Days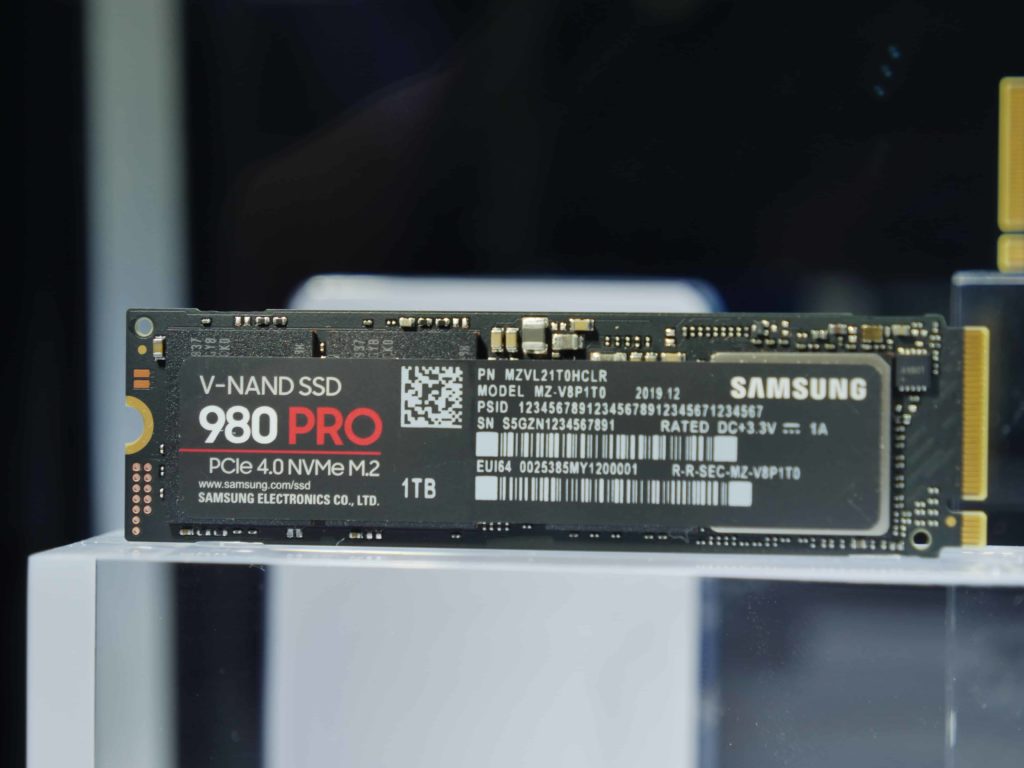 Samsung's booth was utterly huge. It was basically it's own mini trade show in of itself it was so big. Inside though it didn't dissapoint either with a number of new and awesome launches.
Top of the list was their latest Samsung 980 Pro NVMe SSD. Finally matching the new PCIe Gen 4 spec that AMD released with their latest generation of CPU's it enables read/write speeds of up to 6,500 / 5,000 MB/s.
It will come in 250, 500 and 1 TB configurations and uses the Phison E16 controller. It's not released just yet but Samsung says to expect more news in Q2. They better get it out quick smart though as the new Phison E18 (or other) controllers are likely going to offer up to 7 GB/s read speeds.
Not unsurprisingly this "7 GB/s" read speed actually slots exactly into our Technology Forecaster's estimate for 2020 SSD read speeds of 7.2 GB/s. If this 44% CAGR prediction holds steady for the next five years we'll be hitting mind melting read speeds of 40 GB/s by 2025. Bring it!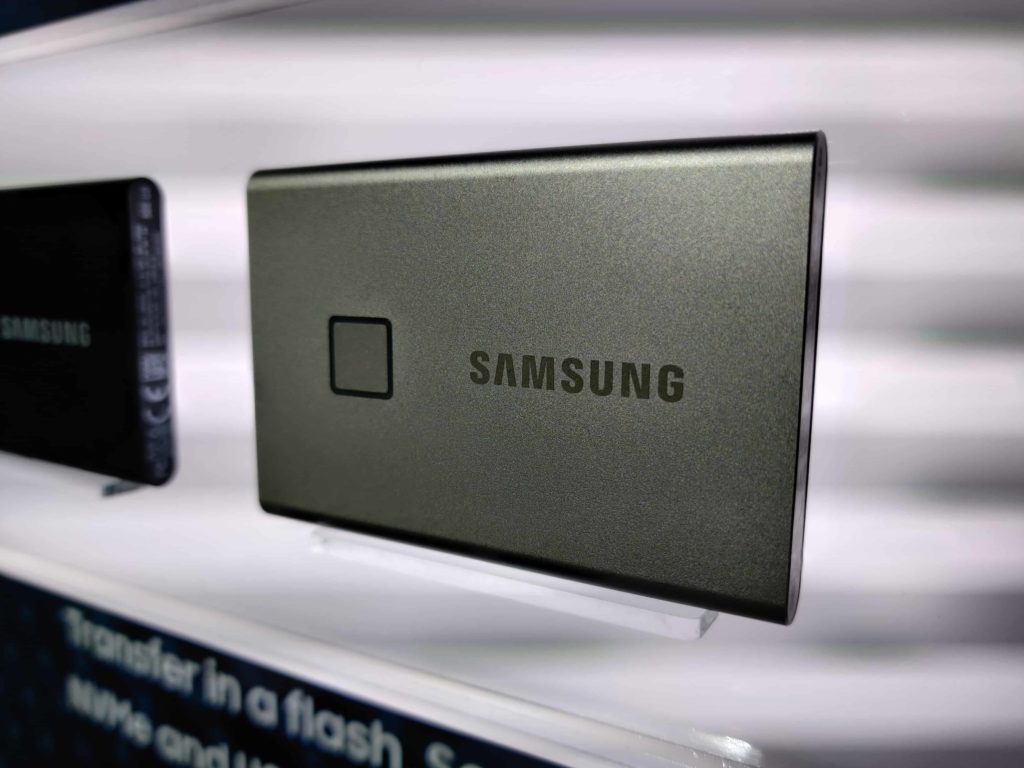 Samsung also released their upgrade to the excellent T5 SSD (see our review here) which not only doubles the read/write speed but also now includes fingerprint security.
Coming in 500 GB / 1 TB / 2 TB models it has a read/write speed of 1,050 / 1,000 MB/s using the latest USB 3.2 Gen 2 interface and NVMe drives. If that's not fast enough for you though Sammy has you covered with their also new X5 Thunderbolt portable drive pictured below.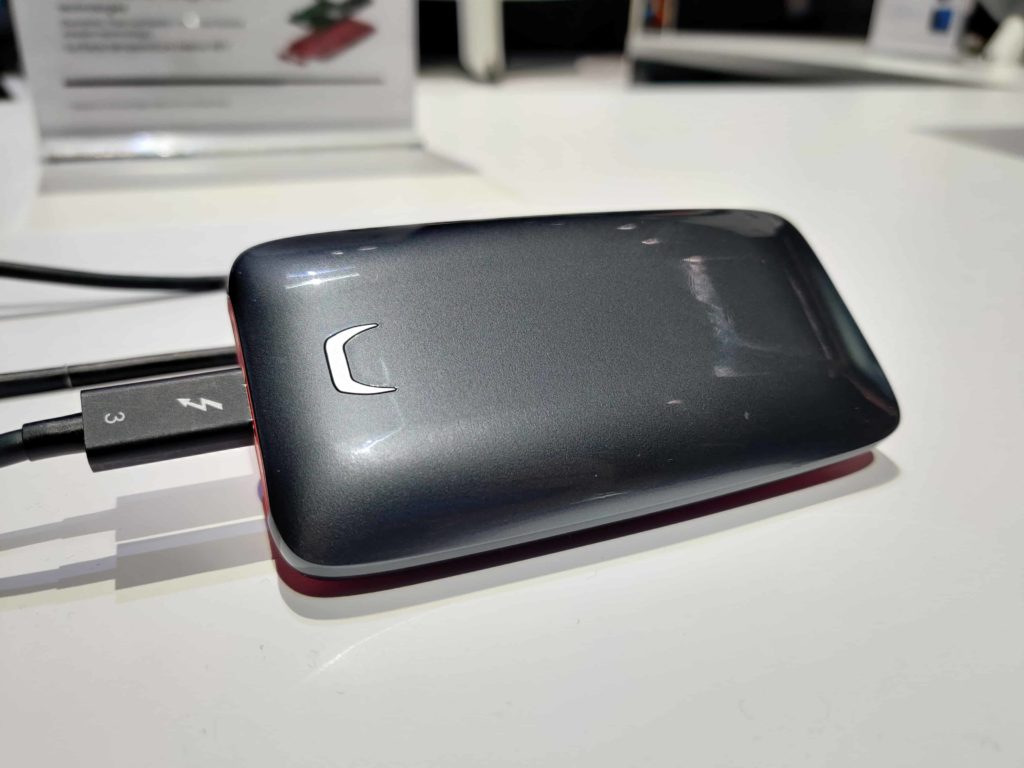 This beast uses the Thunderbolt 3 connection standard that runs at 40 Gbps to hit transfer speeds of up to 2,800 MB/s. Sold squarely at content creators that need to copy on/off huge amounts of data as quickly as possible it's pretty damn impressive.
Engineered with a magnesium full metal body design and advanced thermal management tech inside this is a serious piece of kit so expect a serious price tag when it lands later this year too.
Stay Tuned For More!
And that's it for today's run down! There is a ton more I'm still processing and writing up so stay tuned for more and let me know in the comments below if you have any specific questions. I pretty much tried out everything new I could find so if you want some frank first hand impressions I'm happy to oblige!
For the newer readers... if you've just bought a new DJI Drone or are interested in learning more about how to fly them and get professional videos... You'll probably like our awesome new course: DJI Drones: How To Become The Ultimate Pilot - Fly with confidence, get professional videos, stay safe and get in the air quickly!
The benefits include: 1) How to get those silky smooth videos that everyone loves to watch, even if you're new 2) How to fly your drone, from taking off to the most advanced flight modes 3) Clear outlines of how to fly with step-by-step instructional demonstrations and more 4) Why flying indoors often results in new pilots crashing their drone 5) What other great 3rd party apps are out there to get the most out of your drone 6) A huge mistake many pilots make when storing their drone in the car and how to avoid it 7) How to do all of these things whilst flying safely and within your countries laws.
76% OFF CORONA CONTENT SALE!!!