Portable storage devices have come a long way since they first debuted over a decade ago. I remember a time where the only option you had really was to lug around a huge 3.5″ desktop HDD in an equally huge metal enclosure that also had a full laptop charging brick with it. You were basically carrying a laptop and charger!
Luckily since then technology – as it always has – improved and now we're able to cram 2 TB into something that's smaller than the size of a pack of cards.
Looks And Build Quality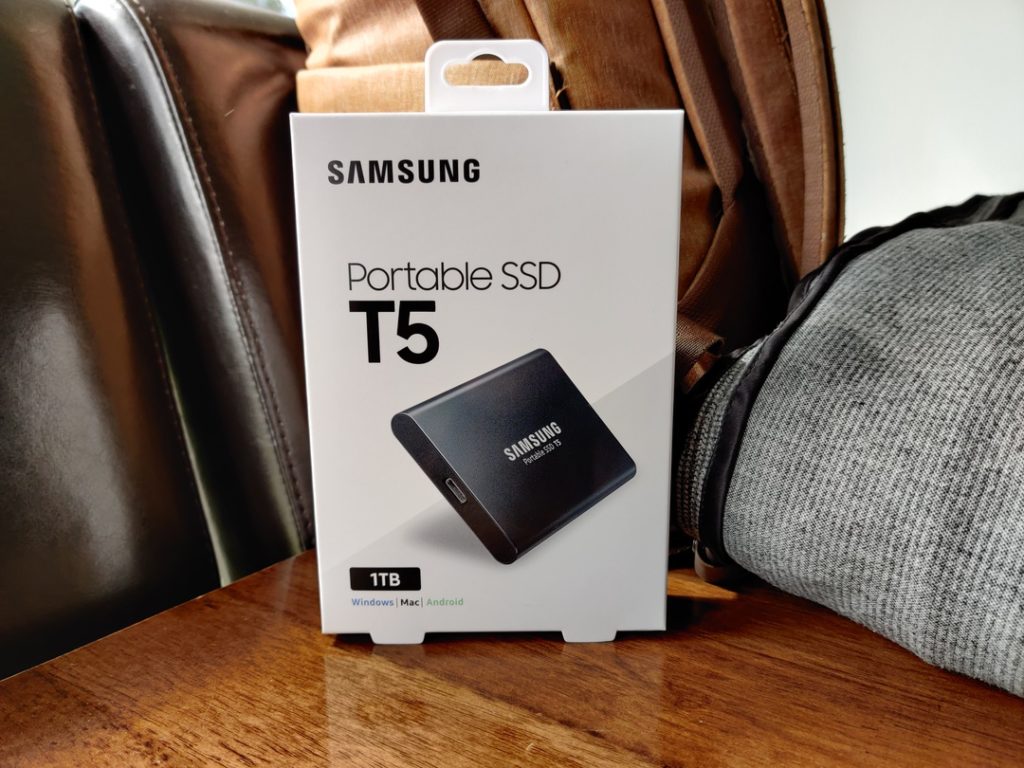 For this review we're looking at the 1 TB model however the Samsung T5 SSD also comes in 250 GB, 500 GB and 2 TB models. It comes in nice enough wrappings and looks great.
The black colour is for the 1 and 2 TB models while the 250 and 500 GB ones get their Alluring Blue colour. It seems you can also get it in Red and even Rose Gold but they no longer seem to be showing these colours on their Australian website currently.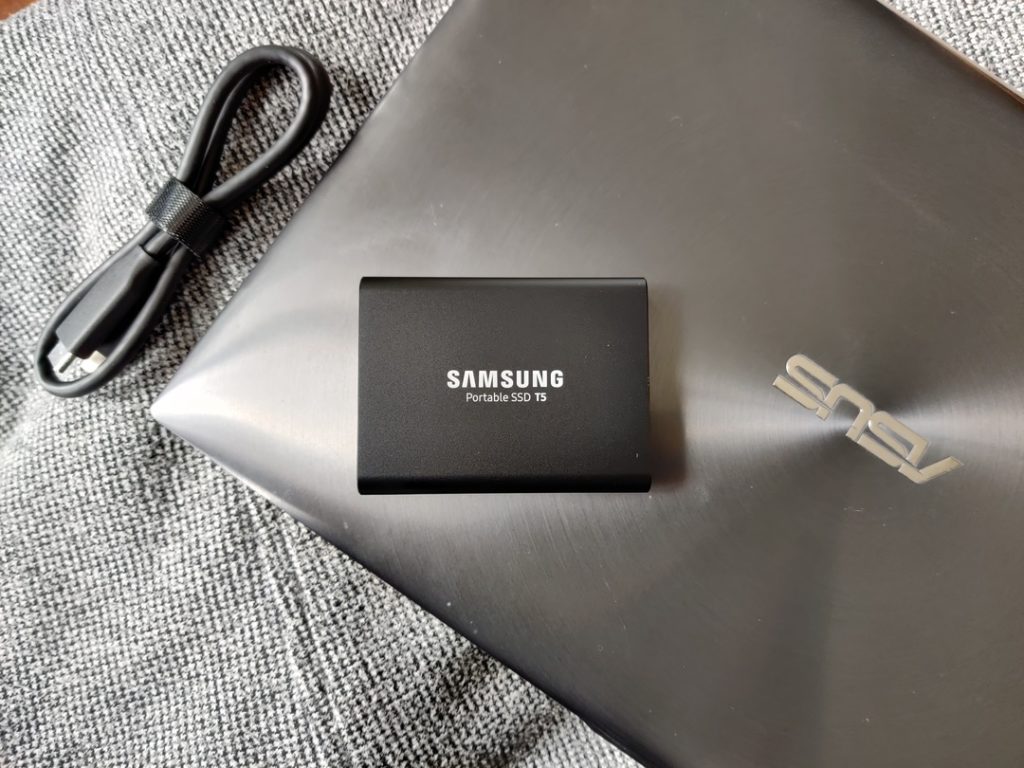 Made from a very nice and durable metal finish the drive itself measures only 74 x 57.3 x 10.5 mm (WxHxD) and weighs just 51 grams! This makes it basically stupid small and it's easy to just put it anywhere. From your pocket, to any spot in any bag it's basically so small and light you forget you even have it on you
This is quite a step up from the small portable laptop HDD's that used to be the best buy in the portable storage market. On top of that size and weight reduction you also get increased impact and shock resistance.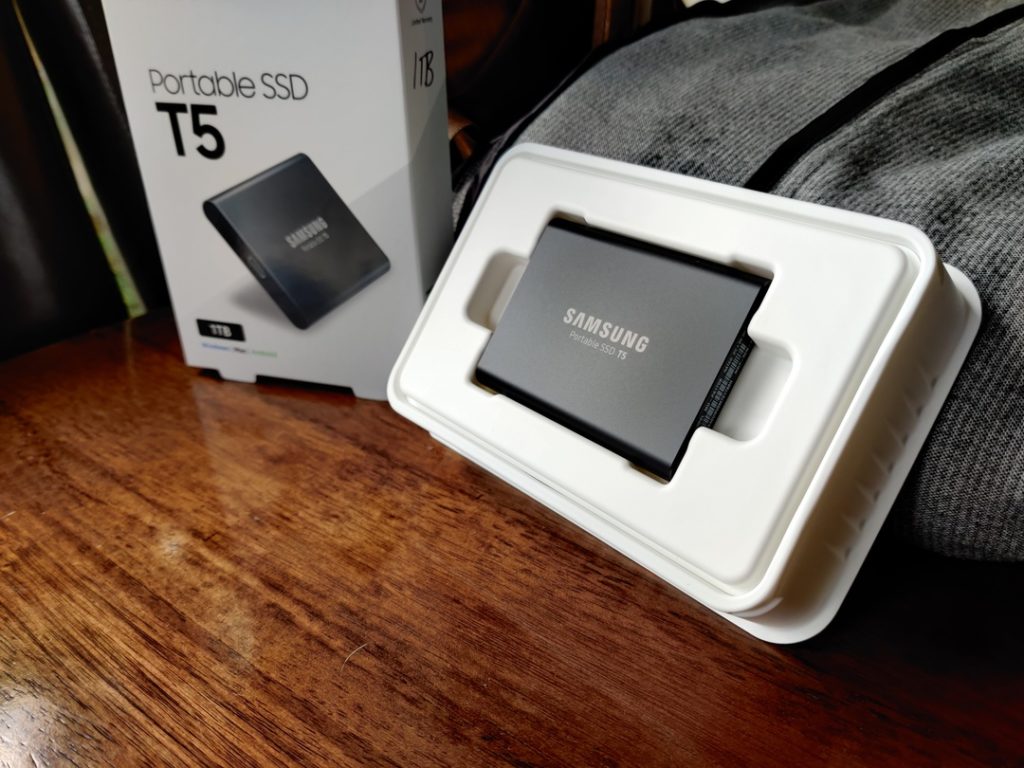 As there's no physical drive platter in these SSD's they can take quite the punch. Samsung rates it for drops of up to 2 metres and gives it a limited 3 year warranty which is fantastic.
Beyond the physical robustness you even get AES 256-bit hardware encryption to help protect your data in case the drive itself ever gets stolen.
Connectivity And Speed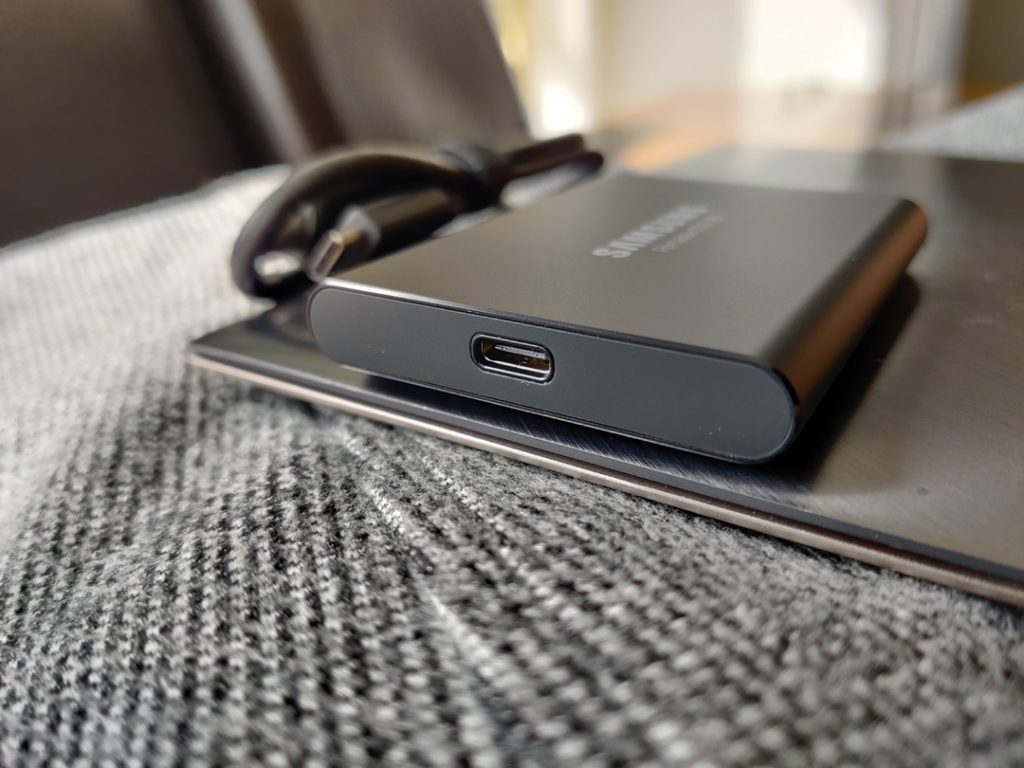 Another huge benefit of SSD's over traditional mechanical HDD's is their super speed increase. Here the T5 doesn't dissapoint with a USB 3.1 Gen 2 (10 Gbps) Type-C interface.
If you'd like to learn more about all the different versions and ports of USB and what's best you can check out our fantastic Ultimate Guide To USB And USB Type-C here.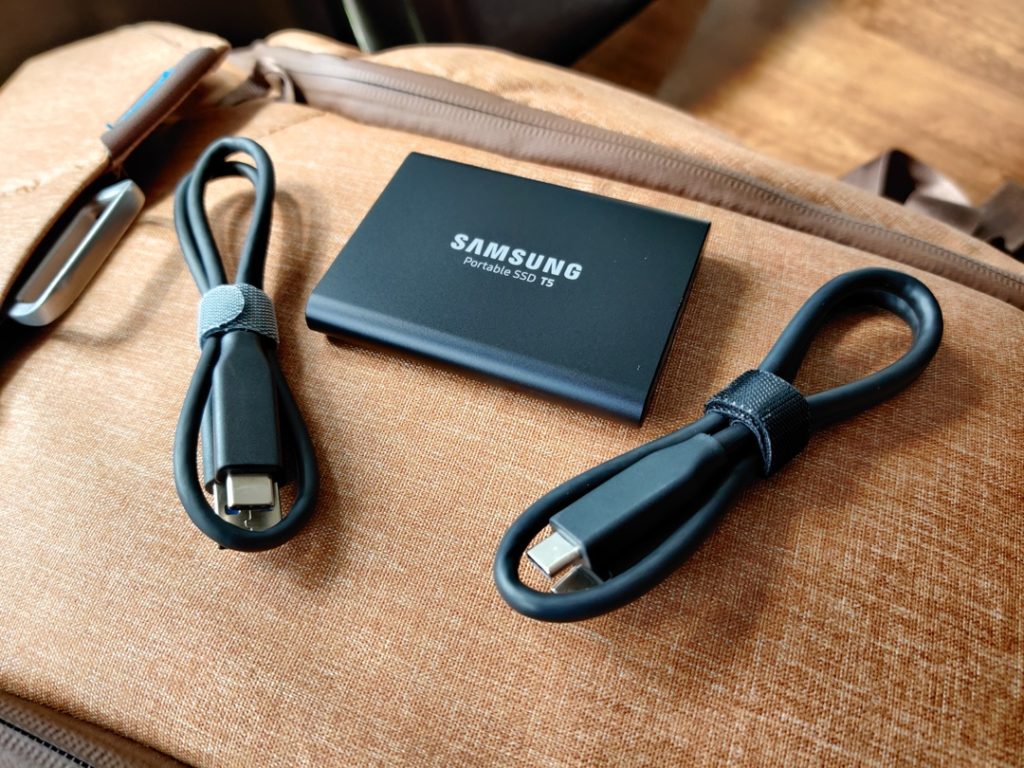 With this super high speed connection and its latest generation NAND flash the T5 boasts speeds of up to 540 MB/s. Doing some quick real world tests revealed that while you might not get quite those stated speeds the drive is by no means a slouch!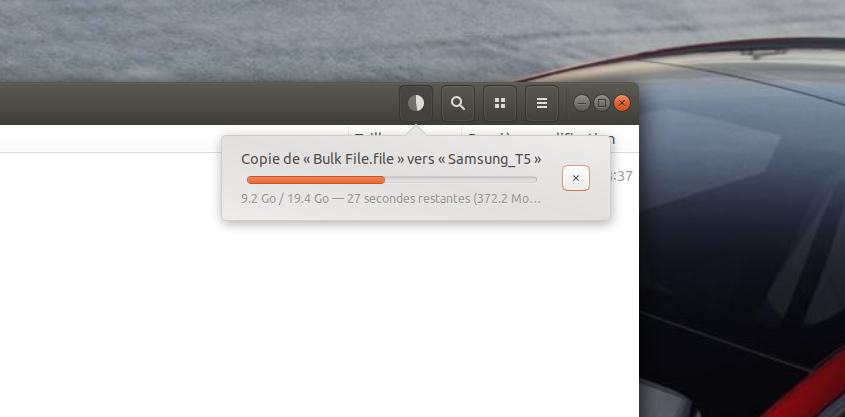 The above transfer speed was achieved on the following system:
Gigabyte Z170 Gaming 7 Motherboard
Intel Core i7-6700 CPU
Corsair Vengeance 32 GB DDR4 RAM
Gigabyte GTX 1070 G1 Gaming 8GB Graphics Card
512 GB Samsung 960 Pro NVMe M.2 Drive\
Ubuntu 18.04.3 LTS
The file copied was a single 19.6 GB file and was transferred from the 960 Pro NVMe boot drive to the Samsung T5 through a USB 3.1 Gen 2 10 Gbps port using their provided USB Type-C cable. The T5 drive itself (as well as the boot drive) was formatted to the Linux EXT4 file system.
Reaching a speed of about 370 MB it's not quite their stated speed however this was due to Ubuntu not supporting UASP. UASP stands for USB Attached SCSI Protocol and it allows for faster read/write data speeds to and from storage devices.
To take advantage of UASP-enabled devices you will need to be running Windows 8 or newer, or Mac OS X 10.8 or newer. Some versions of Linux running kernel 2.6.3 and higher can take advantage of UASP, but it is limited to a very small set of supported hardware.
Another interesting point was seeing how those write speeds performed when you format the drive to various file systems. The above test was using the EXT4 file system, a modern and proper file system on par with Windows NTFS.
Below however we formatted the drive to FAT32 and tried copying a smaller 4 GB file. As you can see, the performance takes a huge hit. Our speeds are now less than half of our previous test and less than 30% of what Samsung claims is the drive peak performance.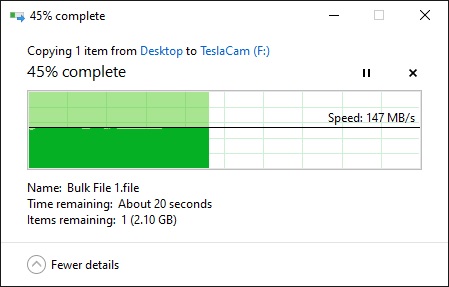 While we're not blaming Samsung for this (as they clearly state you need UASP enabled, USB 3.1 Gen 2 compatible ports and a file system that can handle the high speeds) it's good to keep in mind.
Summary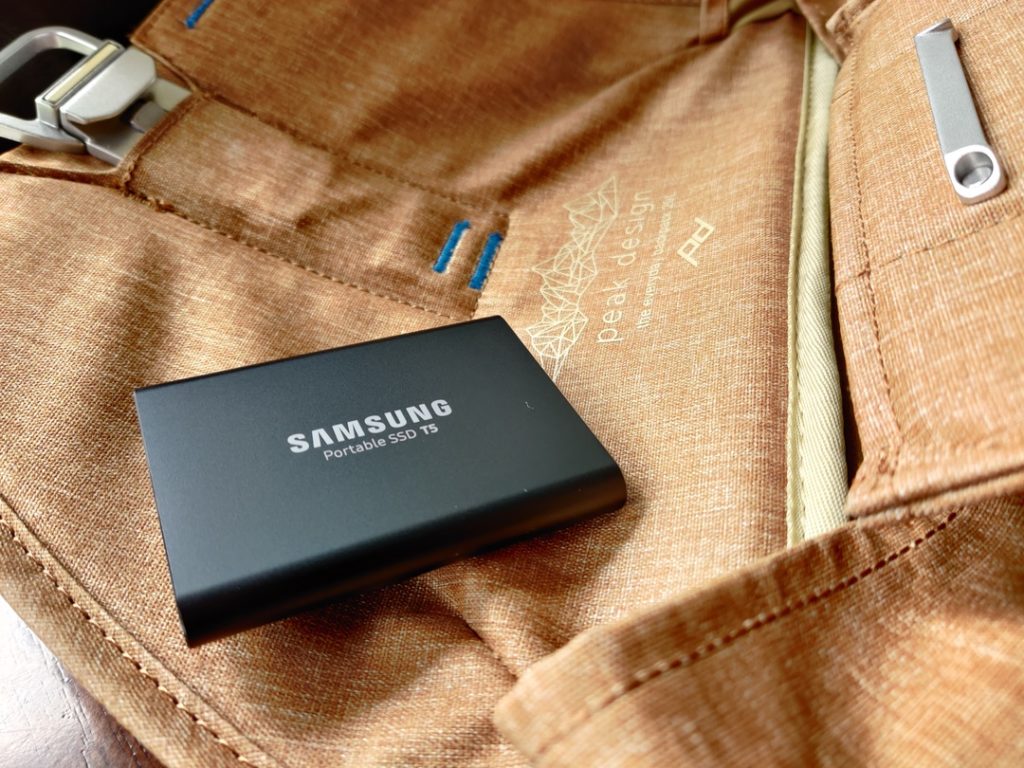 It really is hard to ask for more when it comes to the Samsung T5. It's absolutely tiny and light to point where you start to forget where you left it and lose it. It's pretty much the fastest drive out there without using a Desktop class NVMe drive in an enclosure and it's available in decent sizes at multiple different storage and price points.
As of currently writing this review you can pick them up from various retailers like JB for:
250 GB – $115 AUD
500 GB – $169 AUD
1 TB – $339 AUD
2 TB – $629 AUD
While competing portable HDD's are cheaper for a similar storage capacity, I'd still recommend the T5. The faster transfer rate will likely save you loads of time (and thus money) over its life and the added durability is critical for proper backup storage devices.
I'd also recommend making sure you format it to either NTFS or EXT4 and that you're using the latest Windows/MacOS in order to take full advantage of UASP. Finally it's also worth making sure you're plugging this little guy specifically into a USB 3.1 Gen 2 port with their provided USB 3.1 cables.
While it's obviously backwards compatible to USB 2.0, it's easy to literally double your read/write speeds just by using the right cable/ports. When you're transferring over potentially hundreds of GB of data this can mean a 25+ minute difference when copying 500 GB of data.
The Samsung T5 is also our absolute best recommendation if you're looking for a Sentry and Dashcam storage drive for your Tesla Model 3. You can check out our comprehensive article on that here.
For the newer readers... if you've just bought a new DJI Drone or are interested in learning more about how to fly them and get professional videos... You'll probably like our awesome new course: DJI Drones: How To Become The Ultimate Pilot - Fly with confidence, get professional videos, stay safe and get in the air quickly!
The benefits include: 1) How to get those silky smooth videos that everyone loves to watch, even if you're new 2) How to fly your drone, from taking off to the most advanced flight modes 3) Clear outlines of how to fly with step-by-step instructional demonstrations and more 4) Why flying indoors often results in new pilots crashing their drone 5) What other great 3rd party apps are out there to get the most out of your drone 6) A huge mistake many pilots make when storing their drone in the car and how to avoid it 7) How to do all of these things whilst flying safely and within your countries laws.
76% OFF CORONA CONTENT SALE!!!