We believe that everyone's future can be richer, happier and more efficient, but you can't embrace that future unless you take the first most crucial step, being informed of it.
Welcome to The Tipping Point, a regular post on future tech for people who don't have enough time to read the full news stories. Instead we shorten these, concentrate everything into one post, put that in your face, and you have to suck it. So let's go!
This Weeks News!
AI: Jordan Peterson: The deepfake artists must be stopped
National Post
"Now what if it was possible to conduct such a scam using the actual voice of the hypothetical victim? Worse, what if it was possible to do so with voice and video image, indistinguishable from the real thing? If we're not at that point now (and we probably are) we will be within months."
AI: This Giant AI Chip Is the Size of an iPad and Holds 1.2 Trillion Transistors
Singularity Hub
"On Monday Californian startup Cerebras came out of stealth mode to unveil an AI-focused processor that turns conventional wisdom on its head. For decades chip makers have been focused on making their products ever-smaller, but the Wafer Scale Engine (WSE) is the size of an iPad and features 1.2 trillion transistors, 400,000 cores, and 18 gigabytes of on-chip memory."
CRYPTO: New Crypto-Stealing Ransomware Targets Fortnite Players
Coin Desk
"A new piece of ransomware called Syrk will encrypt files on your hard drive while deleting entire folders if the ransom is not paid. The malware is based on the open source Hidden-Cry program, an encryptor that appeared online last December and has been the basis for many bits of malware over the past year."
CRYPTO: Bitcoin Realized Market Cap Hits $100 Billion for the First Time
Coin Telegraph
"Calculated from multiplying the price each bitcoin last traded by the size of each trade, the figure for Bitcoin passed $100 billion on Sunday. The achievement is just one more in a string of near-constant records for Bitcoin, which recently posted all-time highs in areas such as hash rate and daily trading volumes. As cryptography pioneer Nick Szabo added, the realized market cap progress comes in tandem with some of the lowest volatility seen on the Bitcoin network since 2012."
ENERGY: The Promise of Direct Air Capture: Making Stuff Out of Thin Air
Singularity Hub
"Mimicking what already occurs in nature, DAC essentially involves industrial photosynthesis, harnessing the power of the sun to draw carbon directly out of the atmosphere. This captured carbon can then be turned into numerous consumer goods, spanning fuels, plastics, aggregates, and concrete (as I write this blog, I'm even wearing shoes 3D printed from carbon)."
MEDICINE: The Rejuvenation Now Project Launches
Leaf Science
"The Forever Healthy Foundation has recently launched the Rejuvenation Now project, and it has just published a detailed analysis of NAD+ repletion therapies, providing the first scientific overview of this particular approach and of the supplements currently available."
NANO: Samsung Developing Graphene Battery
AZO Nano
"Graphene batteries are believed to be the optimal solution and alternative to the current generation of lithium-ion batteries on the market. With higher electrical and heat conductivity compared to lithium-ion solutions, graphene is also superior due to its lightweight, flexible and durable qualities. For these reasons, we can begin to understand why graphene has been hailed as a 'wonder material'."
ROBOTICS: Astro robot dog learns new tricks using AI
The Robot Report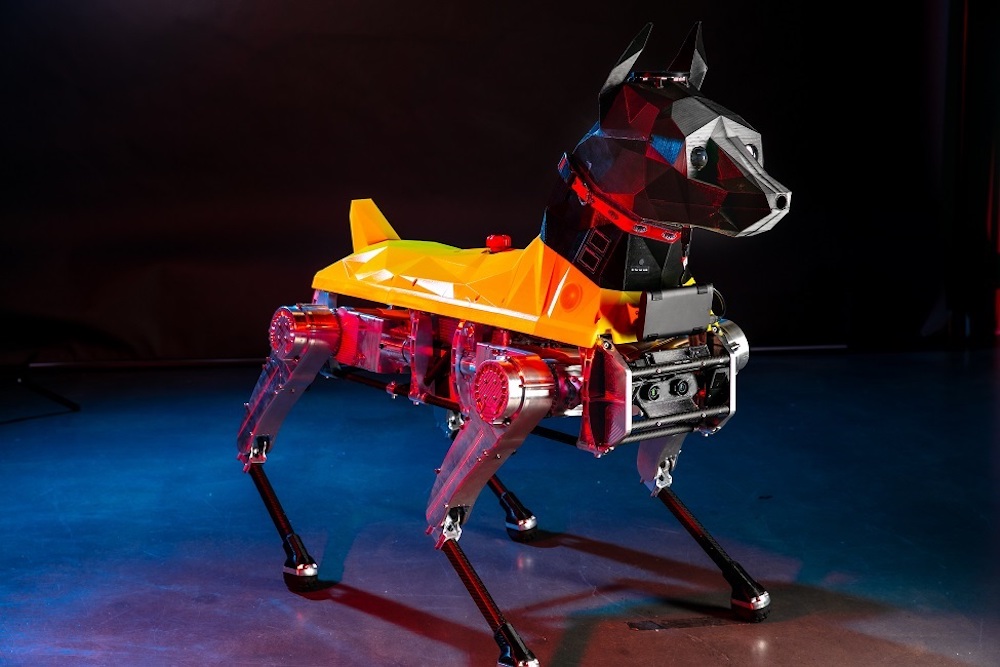 "Astro not only looks like a dog; he learns like one too. That's because he doesn't operate based on pre-programmed robotic automation. Instead, Astro is being trained using inputs to a deep neural network – a computerized simulation of a brain – so that he can learn from experience to perform human-like tasks, or on his case, "doggie-like" tasks, that benefit humanity."
ROBOTICS: What happens when a DJI Phantom or Mavic Pro crashes into your head?
Drone DJ
"The extensive Phase II Ground Collision study from ASSURE was led by the University of Alabama, Huntsville and the Mississippi State University, The National Institute for Aviation Research at Wichita State University and others and investigated the possible injuries that would result from collisions between people and drones."
FOOD: KFC is testing meatless chicken wings and nuggets
Vox
"SunTrust Park baseball stadium in Atlanta — will, starting Tuesday, offer meatless chicken from the plant-based food company Beyond Meat. The deal makes KFC the first fast-food restaurant to serve plant-based chicken. It's a huge step forward for both companies — and for chickens, nearly 50 billion of which are raised in factory farms in the US annually."
TRANSPORT: Here's one of the most important charts in electrification and end of combustion engines
Electrek
"This is great. We are talking about converting a massive plant to electric car production over just over two years. That's quick. I think this more aggressive approach by Volkswagen, which has arguably been forced onto them after the Dieselgate fiasco, will prove successful and could influence other automakers to do the same."
And that's it for this week! Let us know in the comments what you think or if you have found any other important news!
For the newer readers... if you've just bought a new DJI Drone or are interested in learning more about how to fly them and get professional videos... You'll probably like our awesome new course: DJI Drones: How To Become The Ultimate Pilot - Fly with confidence, get professional videos, stay safe and get in the air quickly!
The benefits include: 1) How to get those silky smooth videos that everyone loves to watch, even if you're new 2) How to fly your drone, from taking off to the most advanced flight modes 3) Clear outlines of how to fly with step-by-step instructional demonstrations and more 4) Why flying indoors often results in new pilots crashing their drone 5) What other great 3rd party apps are out there to get the most out of your drone 6) A huge mistake many pilots make when storing their drone in the car and how to avoid it 7) How to do all of these things whilst flying safely and within your countries laws.
LIMITED TIME 91% OFF NEW COURSE SALE!!!