The Tesla Model 3 is a fantastic car and one of its best features is over the air software updates. Tesla is constantly pushing these out on average around once every 1-2 weeks with updates to their AutoPilot system as well as fun new features.
Some like the new Theatre mode which also allows full screen web browsing don't require any hardware changes. Others like the Dashcam and Sentry Mode however need a USB Flash drive of some sort plugged into the front USB ports to function.
As the features have grown these front USB ports, which were originally just intended to be used to charge your phone, have become quite vital. You may want two phones plugged in and charging, a USB drive and even other things all plugged into them meaning you need a USB hub.
With all this extra tech it can quickly become a bit of a mess in there so Jeda has come out and custom made a USB Hub especially for the Model 3. At $79 USD (~$115 AUD) plus delivery it's not exactly the cheapest hub around but there's other reasons to pay that high price.
Packaging / Delivery / Support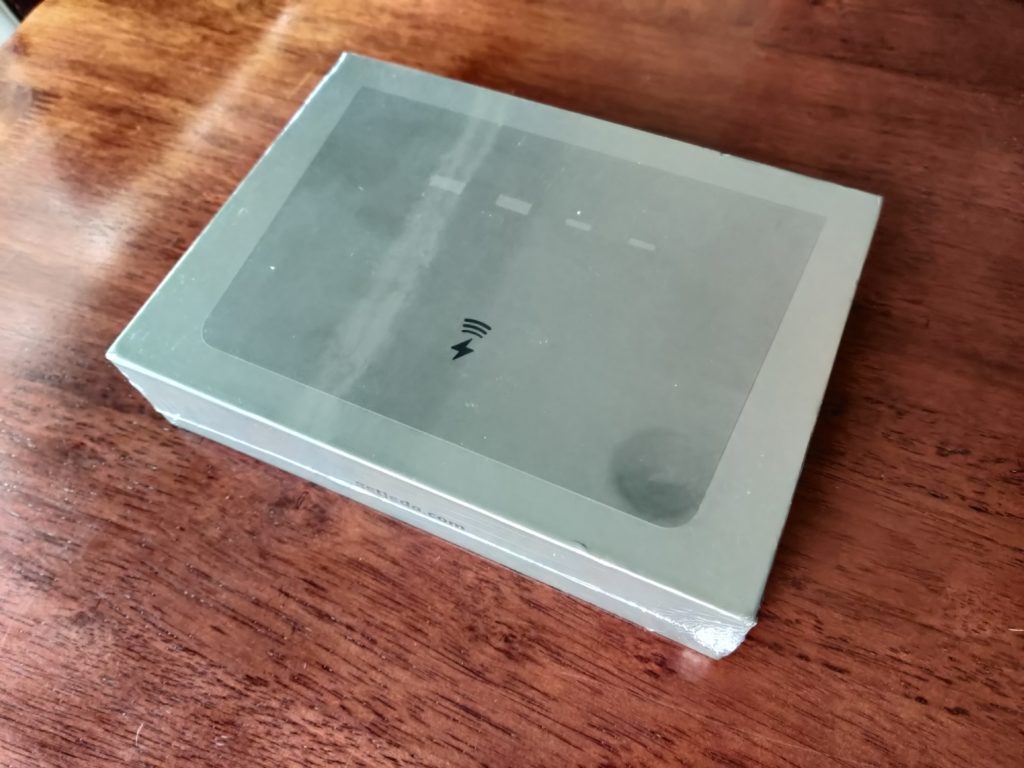 It took Jeda about 3 weeks to actually ship the product to begin with as they are just swamped with orders and can't keep up. Taking a quick look at their shipping page now it seems like they're still struggling with demand.
Due to a backlog, current orders for the Jeda USB Hub will ship within 2-3 weeks from the date of purchase

Jeda Shipping
They're apparently a small company and with the huge ramp up of Model 3's being pushed out creating more and more hungry customers it seems to be putting quite a bit of pressure on them.
That being said their communication and transparency made all the difference. They communicated clearly, openly and consistently throughout that 3 week period giving updates on when shipments would be sent out which honestly makes all the difference.
The only thing worse than long shipping times is having the company go completely silent and never return emails. This was not Jeda so fantastic work.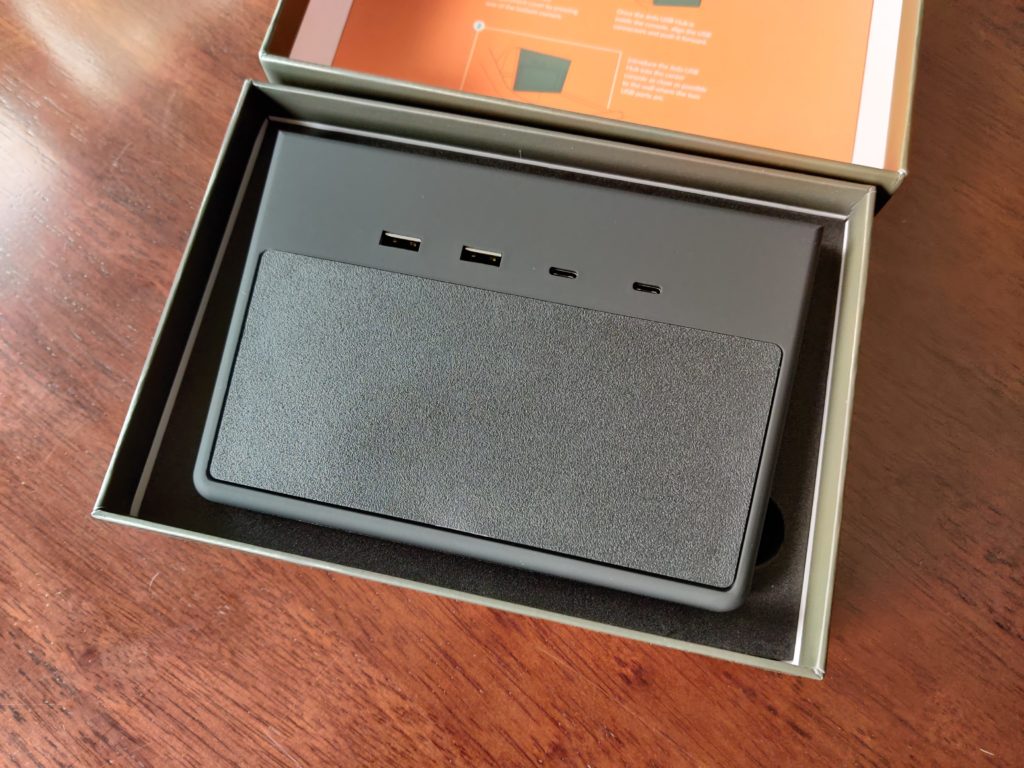 Once the Hub arrived everything was as expected. The unit comes as shown above and the packaging was sufficient to ensure it was all protected. Nice and secure, foam all around. No problems at all.
Setup / Installation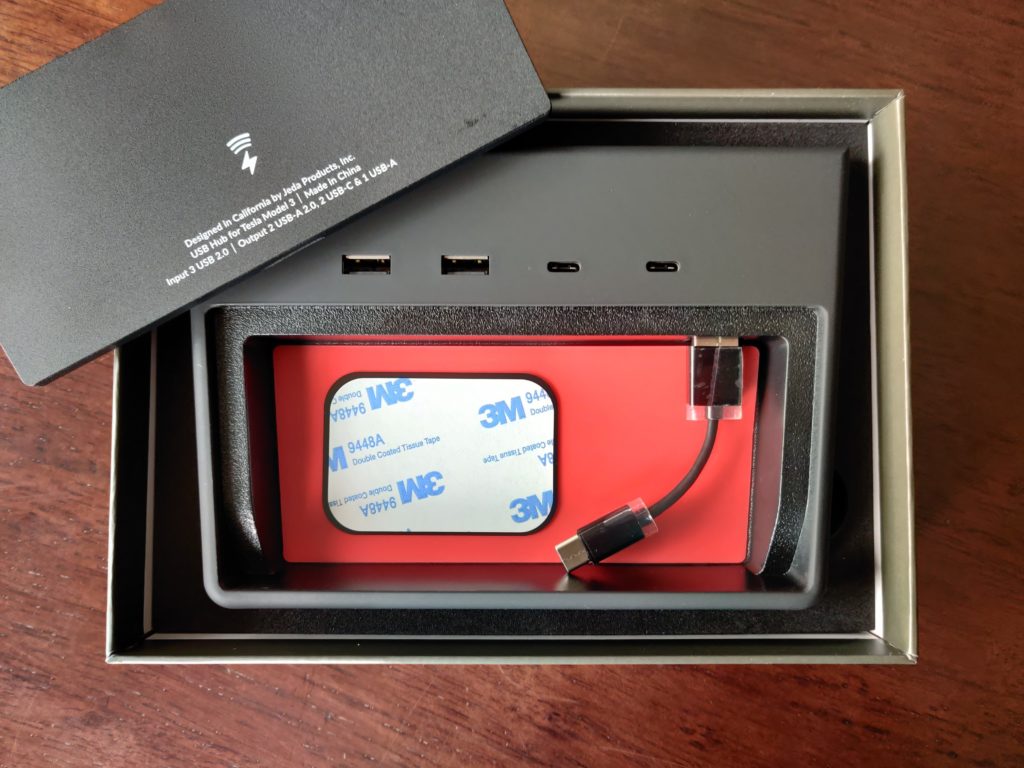 Setting it up is also a breeze with the already supplied USB Type-C to USB Type A mini cable. This allows you to plug in a USB-C SSD or remove the cable and plug in a USB flash drive directly to the Type-A port.
Just make sure your SSD or flash stick will fit within the dimensions as they're not overly huge due to the nature of where this has to fit. I'd recommend the Samsung T5 SSD as shown below in the final shots.
Along with the tiny cable they also include a 3M metal plate to stick to your SSD. This sticks to your SSD and then the metal plate itself (with the SSD) is held in place by magnets in the red backing part. This means the SSD isn't jiggling around as you drive making noises all the time. Super smart!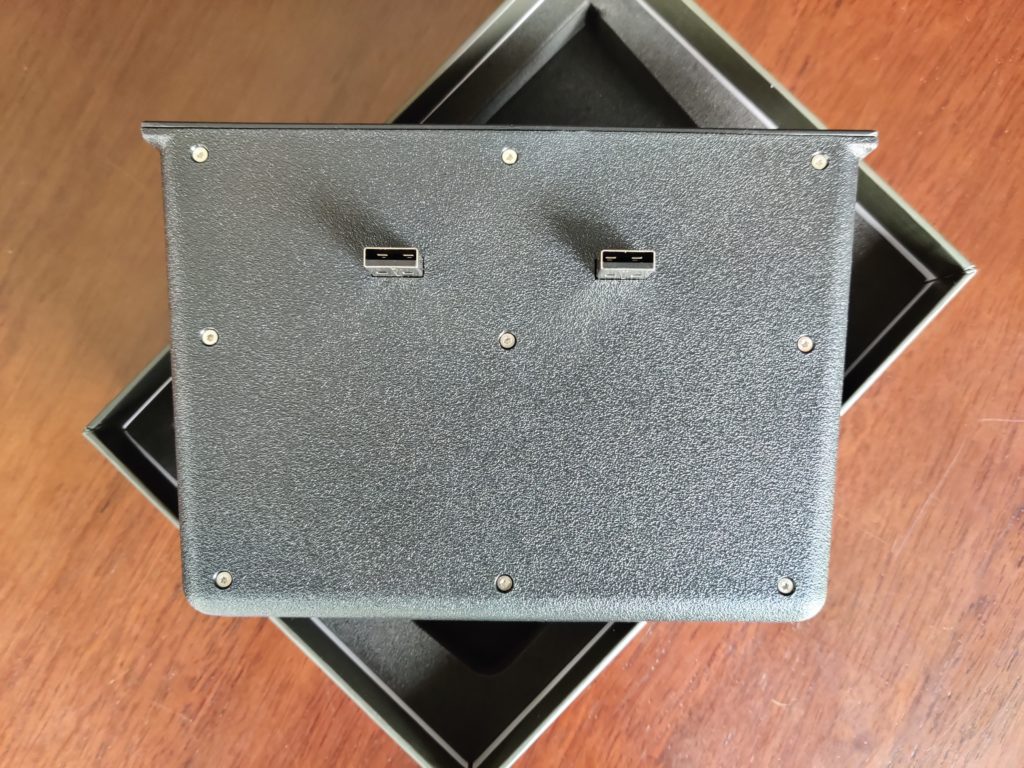 On the flip side of the unit are two perfectly aligned USB Type-A ports that slot directly into the Model 3 ports in the centre console. Opening, sticking the plate to our SSD and installing the whole thing took about 5 minutes with zero problems.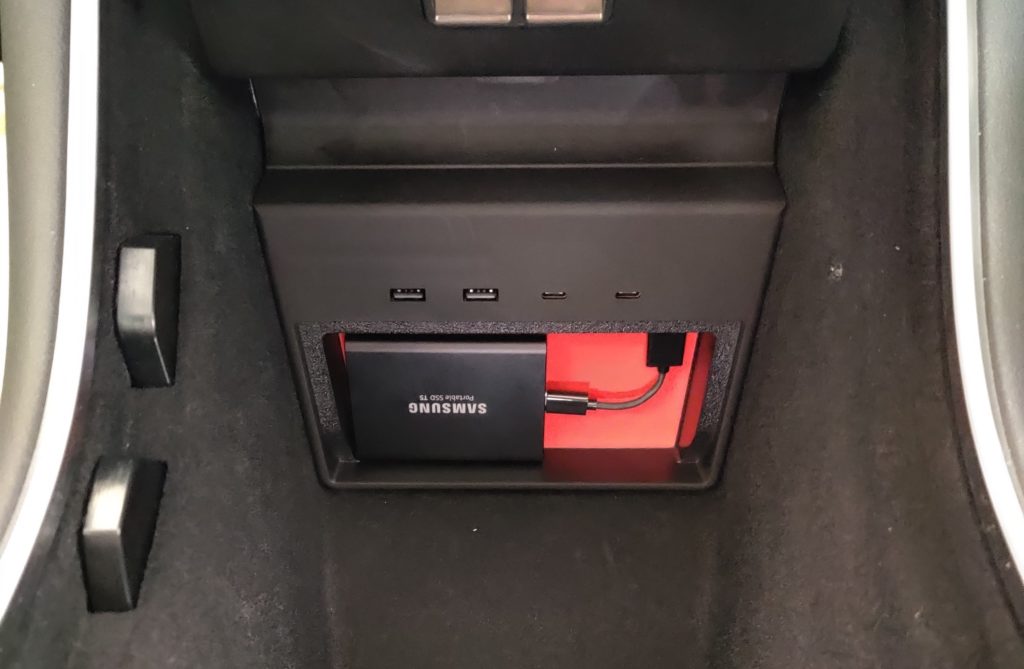 The result looks very professional and completely "stock". In the photo above the cover is still not put on but once attached (again held in place by magnets around the sides) everything is super well hidden.
The stock look not only looks good but totally hides your SSD or flash stick meaning that if someone does break into your car and steal everything, they'll likely not take the drive.
Later on you can take the drive out and recover the Sentry mode footage to hopefully catch the criminal. Without this handy features it's quite possible the thief would also steal the drive along with everything else leaving you out in the cold with no footage at all!
As such this Hub isn't just something that makes your car neat and more usable (as there's now more USB ports), it's also a bit of an added safety features too.
Quality / Finish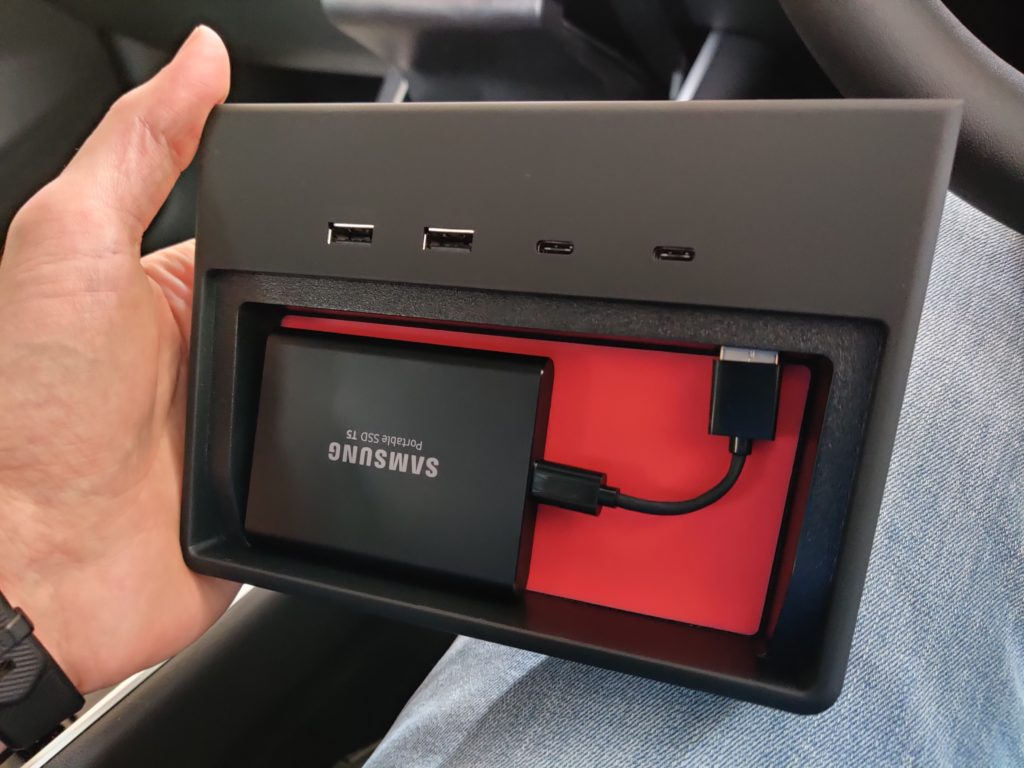 The finish of the unit is very solid. The fitting of it into the centre console is sub-millimetre perfect. It actually takes a bit of a nudge to get it in there but it's absolutely spot on.
On top of the fit, something that's not visible just by looking at photos is that the material on the top part of the hub matches perfectly with the material it sits next to once installed. This really makes it fit in and just look like it's always been part of the car from scratch.
Summary: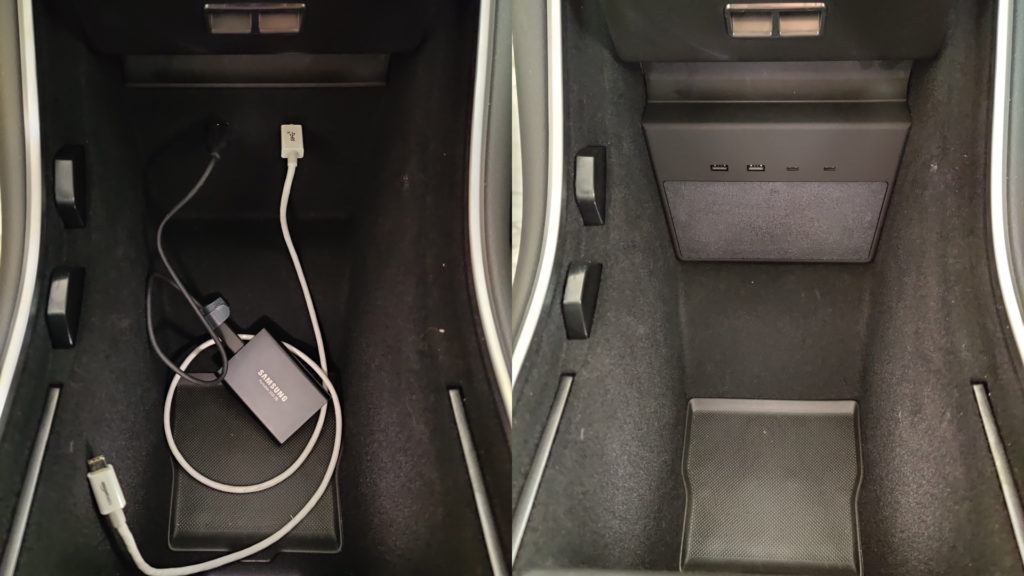 As you can see, the before and after shots tell the whole story. While our (basically new) centre console area wasn't exactly a huge mess to begin with it's now much better.
The hub increases the security of the car as now the drive that stores all the security footage is hidden at all times even if you go digging into the console. It adds not just more ports but USB Type-C ports (USB C all the things!) and finally cleans everything up super nice.
The combination of the Samsung T5 and the Jeda Hub works great together too. I'll be pushing out a review on the T5 soon so stay tuned and subscribe so you don't miss it!
Jeda also make a Wireless Charging pad for the Model 3 too. Unfortunately my OnePlus 7 Pro doesn't come with wireless charging (seriously WHY OnePlus why????) but perhaps one day I'll pick that up too.
For the newer readers... if you've just bought a new DJI Drone or are interested in learning more about how to fly them and get professional videos... You'll probably like our awesome new course: DJI Drones: How To Become The Ultimate Pilot - Fly with confidence, get professional videos, stay safe and get in the air quickly!
The benefits include: 1) How to get those silky smooth videos that everyone loves to watch, even if you're new 2) How to fly your drone, from taking off to the most advanced flight modes 3) Clear outlines of how to fly with step-by-step instructional demonstrations and more 4) Why flying indoors often results in new pilots crashing their drone 5) What other great 3rd party apps are out there to get the most out of your drone 6) A huge mistake many pilots make when storing their drone in the car and how to avoid it 7) How to do all of these things whilst flying safely and within your countries laws.
76% OFF CORONA CONTENT SALE!!!