Tesla has just released the first details on what Model 3 accessories and upgrades will be available here in Australia. In an online brochure they not only outlined what will be released here but for how much too.
Vehicle Accessories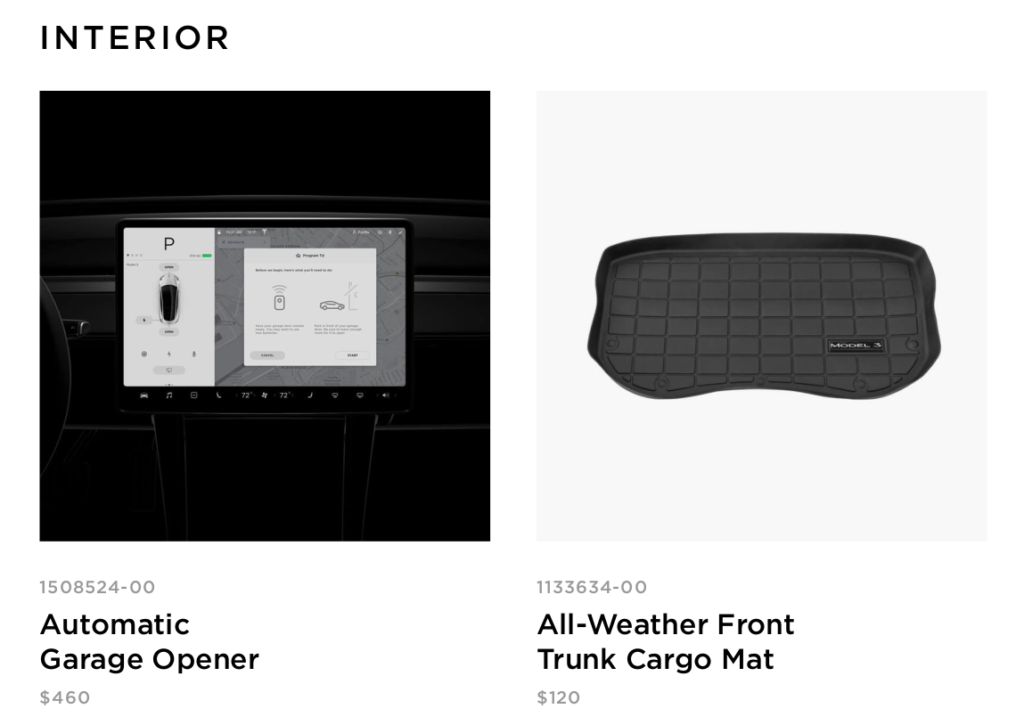 Looking through the entire brochure one thing is suspiciously absent. Floor mats for all the SR+ owners who don't get them included with the car. They do list the Frunk Carpet Mat for $50 AUD, but given I was explicitly told by a Tesla rep only a few days ago that they'd be available to order on the delivery day it seems strange they're not there.
That being said there are a number of other great accessories available such as (all prices in AUD):
$700 – Silver Wall Connector (2.5 or 7 m cable)
$460 – Automatic Garage Opener
$120 – All-Weather Front Trunk Cargo Mat
$180 – All-Weather Rear Trunk Cargo Mat
$20 – Micro USB Phone Charging Cable
$22 – Lightning + USB-C Phone Charging Cable
$50 – Front Trunk Carpet Mat
$115 – Front Glass Roof Sunshade
$135 – Rear Glass Sunshade Package
$105 – Roadside Safety Kit
$470 – Indoor Car Cover
$545 – Outdoor Car Cover
Based on the Australian prices given here and the US equivalent, I'd estimate that when they do finally start selling the Model 3 Carpet Interior Mats here they should retail for around $130-$135 AUD. Personally I'm wanting to pick up the All Weather Floor Liners as they look fantastic!
It's also good to see they've got the sunshades available to purchase as we're only a couple of months away from things starting to really heat up here in Australia so they may be needed.
Vehicle Upgrades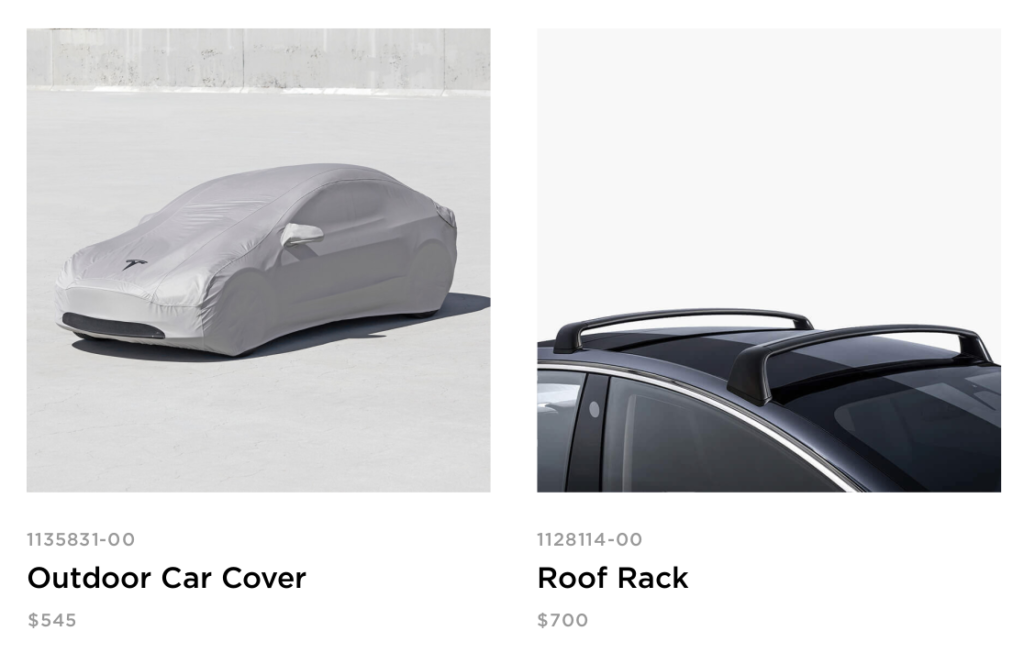 Moving onto the pricier "upgrades" section we have one wheel package along with roof racks which I know a lot of people are very interested in. We also have:
$700 – Roof Rack
$160 – 19″ Pewag RS 77 Snow Chain
$160 – 18″ Pewag Sport RSS 76 Snow Chain
$4,870 – 19″ Sport Wheel and Winter Tire Package
$70 – Wheel Lock Set
$70 – 18″ Aero Wheel Cap Kit
$130 – Tire Repair Kit
$37 – Tire Repair Sealant
$38 – Key Card
The prices all seem to be reasonably steep – such as for the Aero Wheel Cap Kit – but some items you just can't get anywhere else like the replacement Key Cards.
Hopefully this is just the first wave of accessories and upgrades to be released but regardless it's a good whack of them to begin with.
If you want to learn more about the items and where you can order them from check out the full brochure here or their official US version store here.
For the newer readers... if you've just bought a new DJI Drone or are interested in learning more about how to fly them and get professional videos... You'll probably like our awesome new course: DJI Drones: How To Become The Ultimate Pilot - Fly with confidence, get professional videos, stay safe and get in the air quickly!
The benefits include: 1) How to get those silky smooth videos that everyone loves to watch, even if you're new 2) How to fly your drone, from taking off to the most advanced flight modes 3) Clear outlines of how to fly with step-by-step instructional demonstrations and more 4) Why flying indoors often results in new pilots crashing their drone 5) What other great 3rd party apps are out there to get the most out of your drone 6) A huge mistake many pilots make when storing their drone in the car and how to avoid it 7) How to do all of these things whilst flying safely and within your countries laws.
76% OFF CORONA CONTENT SALE!!!