That's right folks, the day has finally come when a car company is producing a highly desirable, long range, fast and affordable all electric car. Up until this point virtually all electric cars have been either just plain ugly, weird, both or lack any type of long range ability let alone be affordably priced and have the ability to quickly charge or even just be a compelling car to "want".
Tesla reports that they are aiming to produce roughly 5,000 units per week by the end of 2017 and then 10,000 units per week by the end of 2018. That would mean pumping out over 500,000 Model 3's a year after 2018. Fingers crossed they are able to achieve that target as it will go a long way to hugely boosting the number of Battery Electric Vehicles (BEV's) on the roads.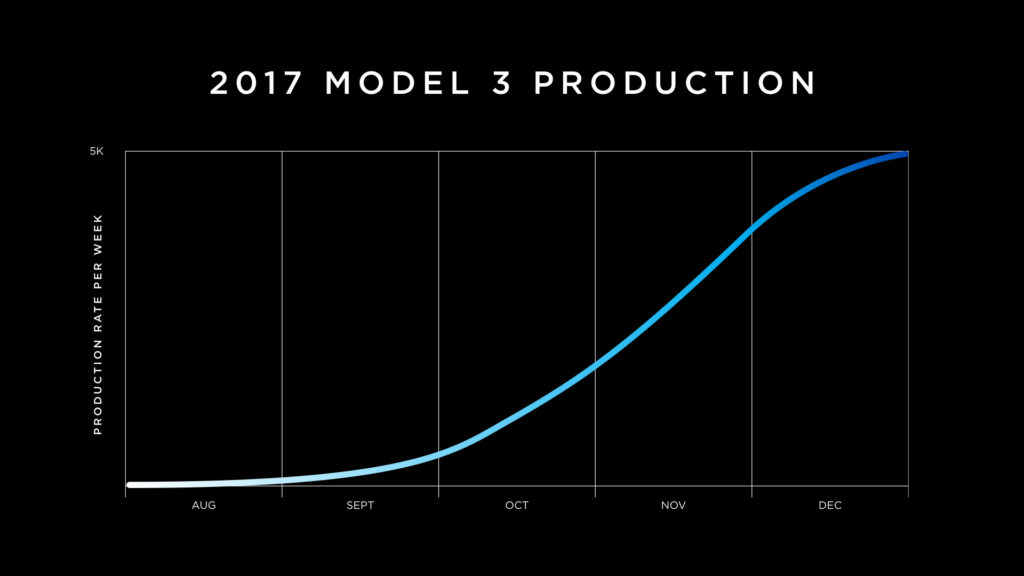 When your friend, relative or workmate has a Model 3, knows all about it and you have a chance to see and drive in it it'll also greatly help to educate the public more about how fantastic electric cars (and especially the Model 3) are. Although there was not much info given at the official announcement the full specs have been trotted out online.
Tesla Model 3 Details
Model 3 Standard – $35,000 USD (I'm estimating ~$54,212 AUD drive away)
Range: 220 miles / 352 km (EPA estimated)
0-60 mph: 5.6 seconds
Top speed: 130 mph / 208 km/h
Deliveries begin: 4th Quarter 2017
Model 3 Long Range – $44,000 USD (I'm estimating ~$68,153 AUD drive away)
Range: 310 miles / 496 km (EPA estimated)
0-60 mph: 5.1 seconds
Top speed: 140 mph / 224 km/h
Deliveries begin: July 2017
Standard Equipment
Black Paint Standard
18" Aero Wheels Standard
15" Screen
Dual Zone Climate Control
Onboard Maps / Navigation
Wi-Fi and LTE Internet Connectivity
Keyless Entry Via Tesla app (no key or fog but back up NFC card)
Voice Controls
Bluetooth Calling and Media Streaming
Full LED Exterior Lighting
Eight cameras, forward radar and twelve ultrasonic sensors enabling active safety technologies including collision avoidance and automatic emergency braking
Six front row and two side curtain airbags
Electronic stability and traction control
Vehicle: 4 year, 50,000 mile limited warranty
Battery warranty: 8 year, 100,000 mile (120,000 mile with Long Range Battery)
…and more
Options
Midnight Silver, Silver, Deep Blue, Pearl White or Red Paints $1,000 USD (I'm estimating ~$1,450 AUD)
19" Sports Wheels $1,500 USD (I'm estimating ~$2,200 AUD)
Premium Upgrades Package $5,000 USD (I'm estimating ~$7,300 AUD)
Enhanced Autopilot $5,000 USD (I'm estimating ~$7,300 AUD)
Full Self-Driving Capability $3,000 USD (I'm estimating ~$4,400 AUD)
That is a seriously futuristic car! Whilst a lot of people are focusing on some of the more basic things like it's range and price, let me just point out some of the extremely new and modern takes that Tesla is adding to this car which in my opinion makes it leagues ahead of even other luxury cars.
Tesla Model 3 Interior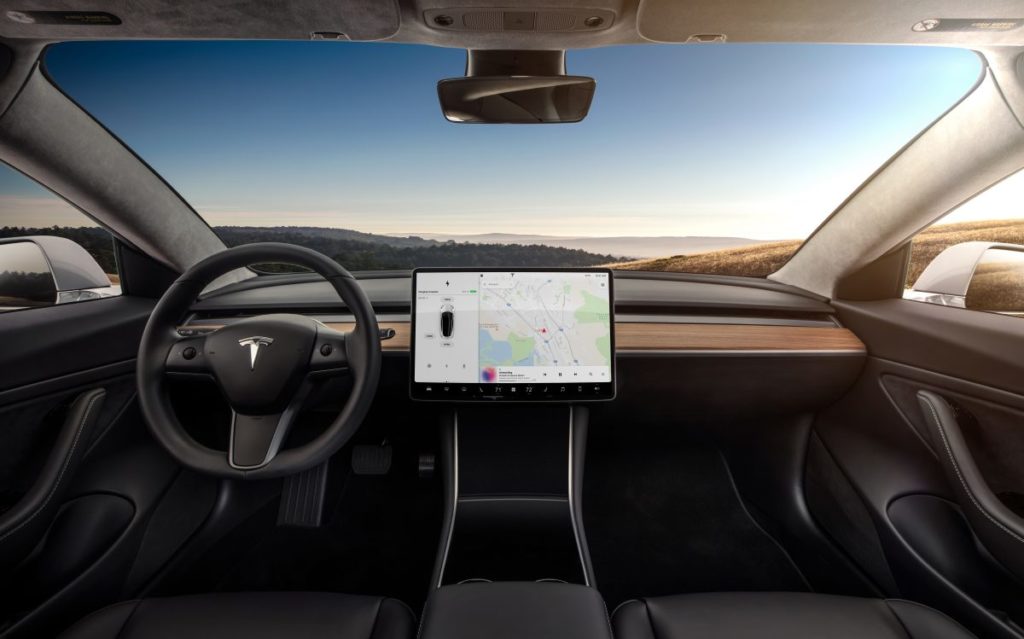 Oh boy… I mean just look at it! Not too long ago Apple announced a new iPhone without a headphone jack saying that they were being "courageous" to drop it. That was one single port! Tesla have essentially taken a modern car interior and scraped alllllll the shit off into the bin because quite frankly, that's where most car interfaces belong! Below is the latest 2017 BMW 3 Series for comparison.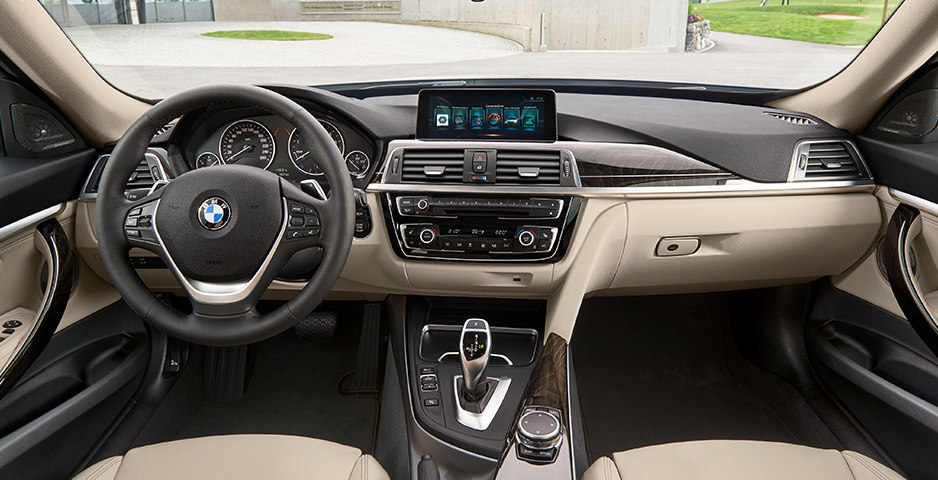 Now I'm a big fan of minimalism so obviously will lean more towards the Model 3's interior, but holy shit that is just night and day right there. I mean just look at all those ridiculous knobs and buttons and dials and more knobs and dials and vents and more buttons and odometers… no wonder 99% of people have NFI what half the buttons in their car do!
Meanwhile that screen up top looks pathetic and minuscule compared to the Tesla Model 3's 15″ touchscreen. If Apple is courageous to remove one port then I think Tesla deserves the Purple Heart for the absolutely refreshing and futuristic interior they've moulded. If you're interested we dig more into the Tesla Model 3's interior in a special post here.
Software Simplified
While they have a similarly big screen in the Model S and X they've taken simplification to a whole new level with the Model 3 and I love it. A lot of people will whine and complain as that's what most people do when presented with new technology and change.
However before Apple released their iPhone phones were seen as highly complex things that no one but hard core phone people really understood. Apple hugely simplified the entire interface down to just one screen and as a result people flocked to it, understood it instantly and went crazy for it. Tesla is essentially doing the exact same thing here.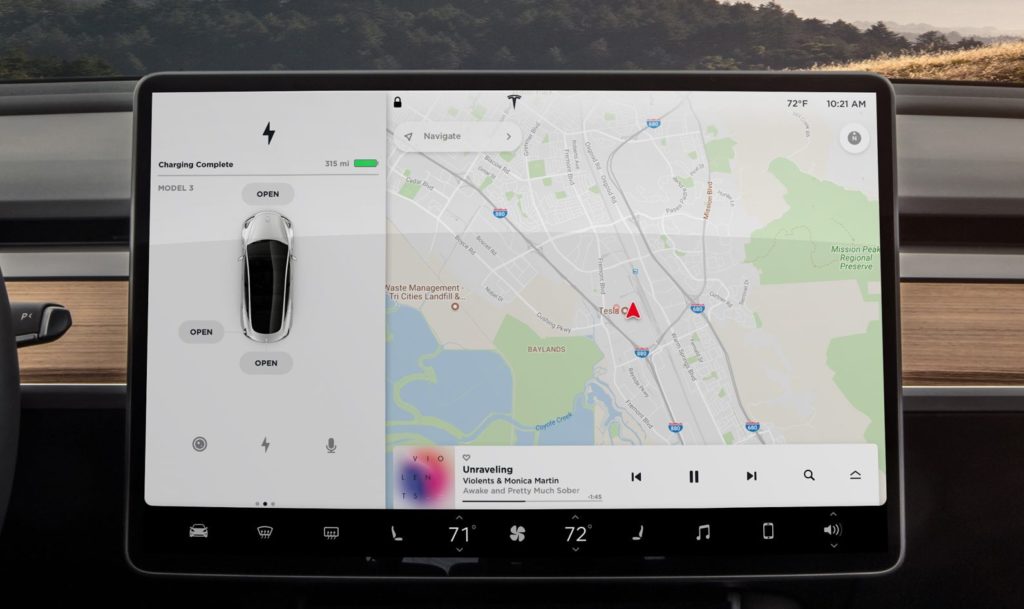 They've removed all the clunky interfaces, buttons, settings, dials and difficult user experiences and replaced it with just one single screen. I think for every one person that complains they prefer the old style of physical buttons online there will be a thousand mums, dads and other people who will finally be able to hop into their car and instantly understand what everything is.
They're know what it's doing and how to change settings or otherwise get it to do what they want to do just like they can on their iPhone. After you've tried that user experience, good luck returning to the BMW's world and having anything but contempt for it. I don't know of a single person who's had a smartphone, hated it and gone back to a Nokia 3110. I suspect that once someone goes Tesla, they won't ever be coming back.
Tesla Model 3 Keys
In case you missed it above, the Tesla Model 3 doesn't actually have a key. That's right, no key fob, no push to start, nothing. You remotely unlock it and control it all via the Tesla App on your smartphone. It does have a backup NFC card that you can give to a valet or use in case your phone dies but for 99.9% of your life you just don't need a key anymore.
As someone who's been paring down their keys and enjoys travelling light this is music to my ears. After installing an August Lock and ditching our house key I'm currently left with only 1 single key… our car key. Hopefully all other car manufacturers get this hint and follow suit. To me it seems pretty obvious that everyone has a smartphone now and that all smartphones have Bluetooth.
Now I'm not sure if Tesla is using Internet connectivity to unlock the car or Bluetooth but either way it's just a very logical progression of things. Personally I'm hoping it will work seamlessly over Bluetooth LE. This way you walk up to the car it simply unlocks for you, then auto-locks as you walk away just like the August Lock does.
OTA Updates
All of Tesla's current cars and now the Model 3 too have Wi-Fi and LTE Internet Connectivity built right in. They're also built from the ground up to be a proper technology platform that receives security and program updates over the air (OTA).
It's been over 5 years since Tesla started doing this with the Model S. Even with that amount of time no other car company comes close. Some cars are connected to the Internet, the odd one or two might even be able to do minor OTA updates too.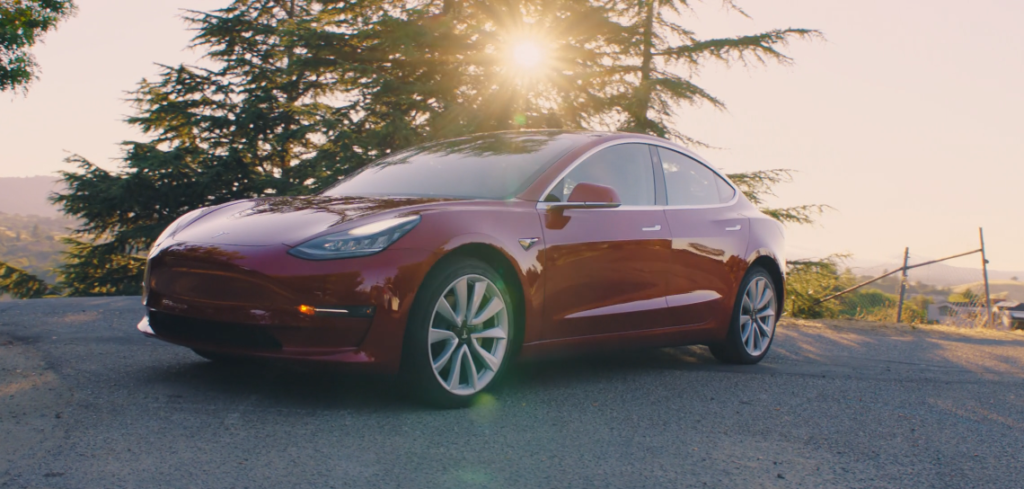 However none do it in such a fully fledged modern way that refreshes your entire interface, increases performance and unlocks new autopilot capabilities. Quite frankly a car that's connected to the Internet and doesn't receive at least security patches instantly OTA is an unacceptable security risk.
Programmers can never get things 100% right on the first go. Furthermore, given how fast things move in the hacking world a company needs to be able to respond to the exposed security threat with promptness and also be able to roll that security patch out immediately.
In contrast 99.9% of cars, even brand new cars, still require you to drive it to a dealership so they can plug in a special device and update the firmware that way. Imagine having to physically take your phone to AT&T or Telstra any time you needed a security patch and then pay them! 
Tesla is leading the way in terms of security and connectivity in cars and the other manufacturers aren't just slow, I don't even think they've grasped the concept yet given it's been 5 years and we've seen zero development on their part.
Even More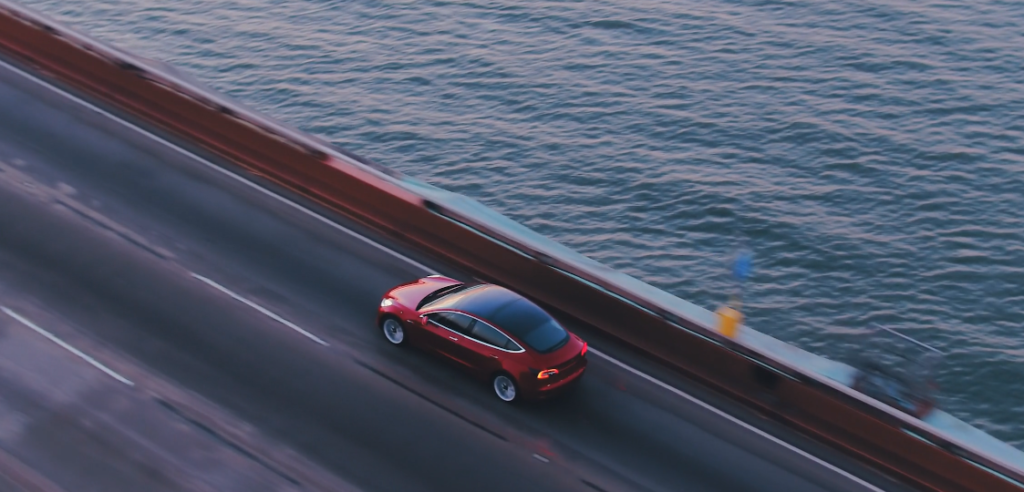 There's even more that I haven't even touched on. Tesla's safety rating are literally off the charts. All their cars are the safest in the world in their class by a good margin. People have literally had entire mountains fall on their cars and walked away without a scratch.
One 18 year old launched his dad's Model S into the air for over 25 meters and once again all 5 occupants were all able to exit the vehicle without the help of the first responders. For decades all the other manufactures have talked after safety being their number one priority and touting their 5 star ratings. Tesla has once again shown us where the future is and it has almost unbelievably safe vehicles.
Rounding out the list for future advancements are other things such as Autopilot, panoramic front/back windshields, navigation that isn't atrocious, front trunk space, superior acceleration, the Supercharger network, battery longevity, servicing experience and likely 10 other things I've just missed.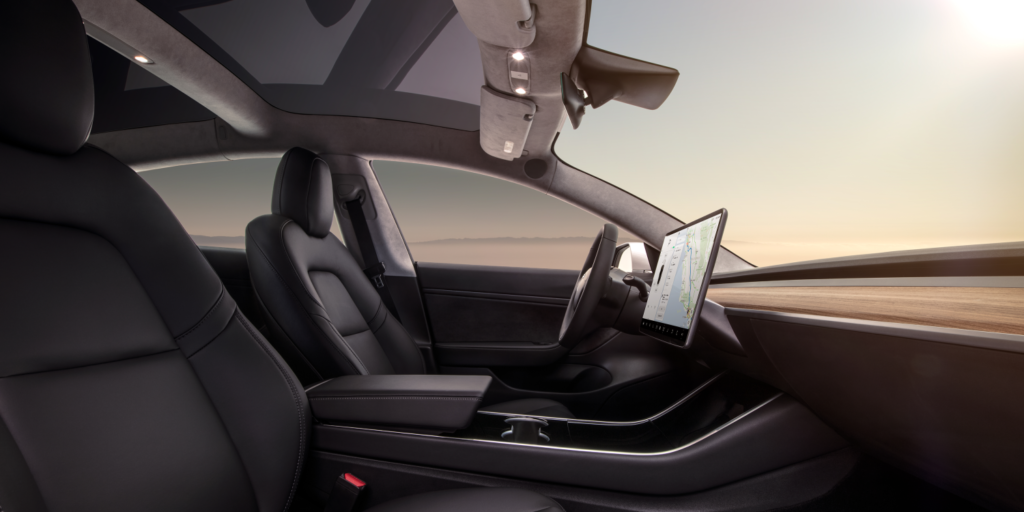 The point is that others are trying to compare the Tesla Model 3 to other cars simply because they're electric. In actual fact the Model 3 has dozens of other reasons it's better than all other cars. Even if the Model 3 wasn't all electric I'd still want to buy it. It's clearly the embodiment of future cars. Modern, sleek, clean interior. Built from the ground up to provide an enjoyable user experience. Extremely safe, secure and delights as updates come out.
What do you like the most about the Tesla Model 3? What futuristic feature did I miss and most importantly… when are you getting one?
For the newer readers... if you've just bought a new DJI Drone or are interested in learning more about how to fly them and get professional videos... You'll probably like our awesome new course: DJI Drones: How To Become The Ultimate Pilot - Fly with confidence, get professional videos, stay safe and get in the air quickly!
The benefits include: 1) How to get those silky smooth videos that everyone loves to watch, even if you're new 2) How to fly your drone, from taking off to the most advanced flight modes 3) Clear outlines of how to fly with step-by-step instructional demonstrations and more 4) Why flying indoors often results in new pilots crashing their drone 5) What other great 3rd party apps are out there to get the most out of your drone 6) A huge mistake many pilots make when storing their drone in the car and how to avoid it 7) How to do all of these things whilst flying safely and within your countries laws.
76% OFF CORONA CONTENT SALE!!!