We believe that everyone's future can be richer, happier and more efficient. But you can't embrace that future unless you take the first, most crucial step: being informed about it.
Welcome to The Tipping Point, a regular post on Future Tech for people who don't have enough time to read all the full news stories. Instead we shorten them, concentrate everything into one post, put that in your face, and you have to suck it. So let's go!
This Weeks News!
AI: Google Photos to finally get its long-promised Colorize mode
Android Police
"During I/O 2018, Google gave the public a sneak peek at a Photos feature that could colorize old black and white pictures, making them look as if they had been taken with an actual color camera. One year after its unveiling, word around further development on Colorize went silent, save for a promise from Google that the beta would be launching "soon." Fast forward five more months, and a functioning version of Colorize has finally been unearthed in beta via the latest Google Photos 4.26 update."
COMPUTE: The Open Letter from the Governments of US, UK, and Australia to Facebook is An All-Out Attack on Encryption
EFF
Top law enforcement officials in the United States, United Kingdom, and Australia told Facebook today that they want backdoor access to all encrypted messages sent on all its platforms. In an open letter, these governments called on Mark Zuckerberg to stop Facebook's plan to introduce end-to-end encryption on all of the company's messaging products and instead promise that it will "enable law enforcement to obtain lawful access to content in a readable and usable format."
FOOD: Meatless meat is becoming mainstream — and it's sparking a backlash
Vox
"But if the emergence of meatless meat a few years ago was hailed unanimously as a good thing, the response to its mainstreaming has been tinged with skepticism. The adoption of Impossible Foods and Beyond Meat products by fast-food chains hasn't exactly been welcomed in some quarters, even among those you would think would be more supportive of this development."
ENERGY: US energy giant says renewables and batteries beat coal, gas and nukes
Renew Economy
"We see renewables plus battery storage without incentives being cheaper than natural gas, and cheaper than existing coal and existing nuclear," Jim Robo, the CEO, president and chairman of NextEra, told analysts last week at the Wolfe Utilities & Energy Conference.
NANO: 3-D printing technique accelerates nanoscale fabrication 1000-fold
Phys.org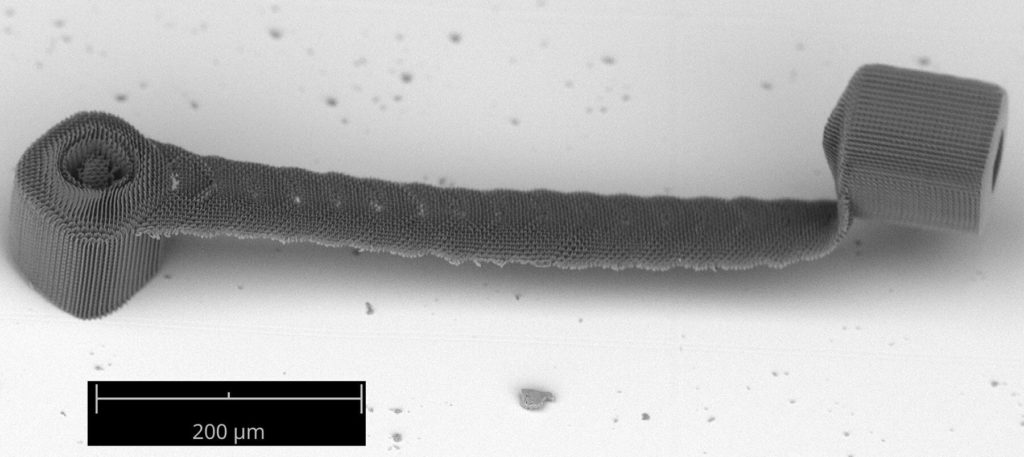 "Despite the high throughput, the new parallelized technique—known as femtosecond projection TPL (FP-TPL)—produces depth resolution of 175 nanometers, which is better than established methods and can fabricate structures with 90-degree overhangs that can't currently be made. The technique could lead to manufacturing-scale production of bioscaffolds, flexible electronics, electrochemical interfaces, micro-optics, mechanical and optical metamaterials, and other functional micro- and nanostructures."
ROBOTICS: DJI Mavic Mini confirmed in FCC database filing
DroneDJ
"Earlier this morning, FCC filings were released for two new DJI products. We will get right to the point here. The DJI Mavic Mini is confirmed in this latest FCC filing. There is also a second product that will most likely be the remote controller for the new mini foldable drone from the Chinese drone maker."
TRANSPORT: 15 Tesla Semi electric trucks to replace diesel trucks at Pepsi facility
Electrek
"Fifteen Tesla Semi electric trucks are going to replace all of PepsiCo's existing diesel-powered freight equipment with "zero-emission (ZE) and near-zero emission (NZE)" trucks and equipment at its Frito-Lay Modesto, California, manufacturing site. PepsiCo confirmed that the vehicle deployed will include 15 Tesla Semi trucks, 6 Peterbilt battery-electric box trucks, and more"
TRANSPORT: Tesla's electric pickup truck on track for next month
Elon Musk
Good news for those of you looking for a fully electric Ute/Pickup! Elon has confirmed that the unveiling event for the Tesla Pickup is indeed on track and happening next month! If it's anything like previous reveal expect it to be towards the end of November and quite the party.
And that's it for this week! Let us know in the comments what you think or if you have found any other important news!
For the newer readers... if you've just bought a new DJI Drone or are interested in learning more about how to fly them and get professional videos... You'll probably like our awesome new course: DJI Drones: How To Become The Ultimate Pilot - Fly with confidence, get professional videos, stay safe and get in the air quickly!
The benefits include: 1) How to get those silky smooth videos that everyone loves to watch, even if you're new 2) How to fly your drone, from taking off to the most advanced flight modes 3) Clear outlines of how to fly with step-by-step instructional demonstrations and more 4) Why flying indoors often results in new pilots crashing their drone 5) What other great 3rd party apps are out there to get the most out of your drone 6) A huge mistake many pilots make when storing their drone in the car and how to avoid it 7) How to do all of these things whilst flying safely and within your countries laws.
76% OFF CORONA CONTENT SALE!!!