Quick Overview
AI: OpenAI strikes again with MuseNet, an AI to produce unlimited music
COMPUTING: Facebook further hinders the Internet with climate denying "fact checkers"
COMPUTING: Vastly clearer, larger and more detailed holograms are now a reality
CRYPTO: Ethiopia will soon launch a secure and dependable national crypto currency
MEDICINE: CRISPR gets a major upgrade making it 50x more accurate!
ROBOTICS: Rumours swirl of DJI potentially killing off the Phantom series
SPACE: SpaceX releases new renders of Starship on Mars and the Moon
TRANSPORT: Tesla increases Model S and X range with new drive train and more
We believe that everyone's future can be richer, happier and more efficient, but you can't embrace that future unless you take the first most crucial step, being informed of it.
Welcome to The Tipping Point, news from the most critical future industries curated for you every week so you can stay informed and prepared. No need to waste hours everyday researching, stay on top of it all with one post and then get back to doing what you do best.
The Tipping point is named after the point at which a new technology goes from being disappointing, expensive and buggy to exciting, exponential, cheap and mainstream. This point of change often sneaks up on and surprises everyone including industry experts!
No matter if you're personally employed in the industry or just a lurker, The Tipping Point is vital to staying up to date and being ready to transition smoothly rather than getting caught off guard.
This Weeks News!
AI: OpenAI strikes again with MuseNet, an AI to produce unlimited music
After creating and partially releasing their highly advanced GPT-2 neural network OpenAI has now used that same "general purpose AI" to develop a new, music generating AI. MuseNet generates 4 minute long musical compositions with up to 10 different instruments all based off a few initially given notes.
So just like GPT-2 generates paragraphs of text based on a few initially given words, MuseNet generates music based on a few initially given musical notes. The results are both impressive and sometimes sound like a 4 year old randomly bashing a piano. Either way, it's baby steps towards a future where we no longer have to pay for Spotify subscriptions and instead just have AI generate unlimited Taylor Swift songs for us on demand.
COMPUTING: Facebook further hinders the Internet with climate denying "fact checkers"
Facebook are being Facebook again, this time by trying to fight "fake news" with facts that are helpfully served up by CheckYourFact.com, an arm of the science denying, fossil fuel funded media site The Daily Caller.
Many of The Daily Caller's stories have been written by its News Foundation, which has received funding from both the Charles Koch Institute and the Koch Family Foundations. Maybe one day Facebook will get things right, at least they're not leaking sensitive data all over the place again this week. Guessing they're too busy paying their $5 billion fine from the FTC…
COMPUTING: Vastly clearer, larger and more detailed holograms are now a reality
Holograms are hard. Extremely hard. While we've had small, low resolution or blurry ones for a while now they've never really gone mainstream partly because of the inherent limitations of the technology. One of the main limitations, commonly referred to as cross-talk, has now been solved thanks to Random Phase Approximation.
"We demonstrate Fresnel holograms that form on-axis with full depth control without any cross-talk, producing large-volume, high-density, dynamic 3D projections with 1,000 image planes simultaneously"
While it will still take some time for this to come out of the lab, it's hopeful that this can now lead to holograms being used more in everyday life, maybe they could even use them to advertise the new Star Wars?
CRYPTO: Ethiopia will soon launch a secure and dependable national crypto currency
The lead developer for Cardano is now working with the government of Ethiopia to launch a national crypto currency soon. While it's unclean whether it will replace the national currency or simply live along side it, it's encouraging to see entire nations seriously start to develop Blackchain technologies and allow more and more people to get exposure to them.
MEDICINE: CRISPR gets a major upgrade making it 50x more accurate!
While you may have heard great things about CRISPER (and it is great), one thing it hasn't been so good at is accuracy. This means that although it might alter your targeted DNA and cut it at the exact right spot… it probably would also cut other things it wasn't supposed to as well. Now though thanks to a new locking structure that's added to one end of the guide RNA that accuracy has been raised 50 fold. The same trick can also be used for other CRISPR systems like Cas12a too. With more and more studies using CRISPR this new tweak should prove to drastically increase their outcomes.
ROBOTICS: Rumours swirl of DJI potentially killing off the Phantom series
It seems like DJI have been working on their Phantom 5 series drones forever. We've even had leaked photos of it a year ago! Alas, still no such actual product is being sold by DJI. Rumours are now saying that DJI have entirely cancelled the next generation of Phantoms and will potentially never release a new one. The Phantom 4 series has been sold out for months now too so things aren't looking good. Many business drone pilots aren't happy and have even started buying up left over stock just in case!
SPACE: SpaceX releases new renders of Starship on Mars and the Moon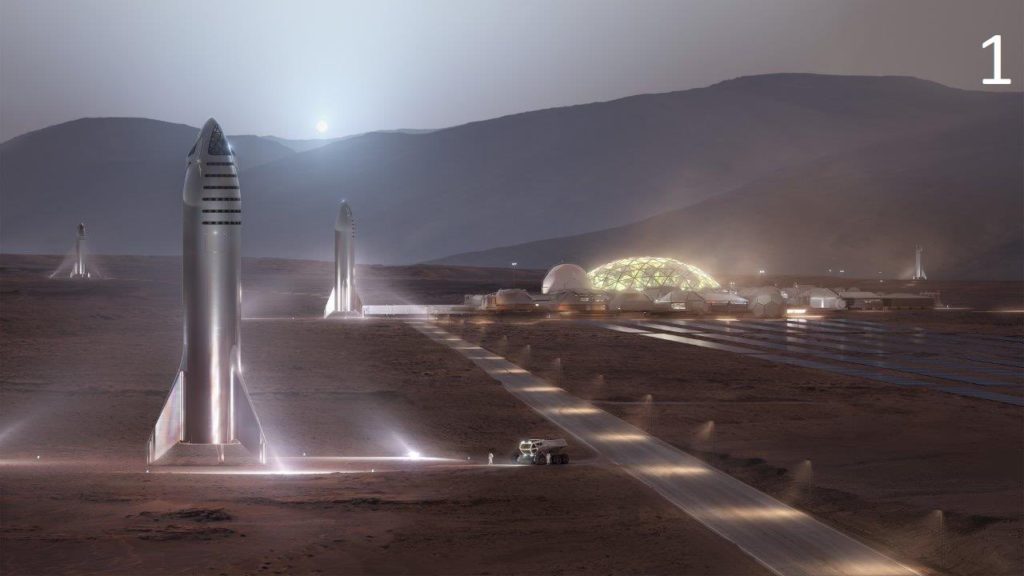 Elon is at it again, this time releasing new renders of the huge Starship proudly landed on both the Moon and Mars. While the Mars one above simply looks like they've just updated the Starship with the new steel based design, the Moon one seems to be entirely new. We should start to see more and more Starship hopper tests as the year continues assuming everything continues to go according to schedule.
TRANSPORT: Tesla increases Model S and X range with new drive train and more
Over the years the Tesla Model S and X have gradually increased their range more and more. For the Model S, the maximum range version you could buy in 2014 was 435 km. In 2015 it was 470 km (8% increase), then in 2016 it was 504 km (7% increase) and from 2017-2018 it was 526 km (4% increase). Now thanks to an overhauled drive train the Model S Long Range is now capable of going 592 km (a whopping 12.5% increase). That's an average increase of 32 km's or a 6.3% increase every year!
If Tesla continue at this rate we should be seeing the Model S being able to travel more than 850 km's by 2025 and almost 1,200 km's by 2030. Given the billions of dollars of investment being poured into battery tech now it could even accelerate. For now a near 600 km range is quite substantial plus the S and X now come with a 200 kW maximum charge rate on V3 Superchargers and 145 kW on V2 ones. There's also Fully Adaptive Suspension the new FSD computer we discussed in detail last week and other rumours that an interior refresh is coming soon too.
And that's it for this week! Let us know in the comments if you've heard of any other awesome news!
For the newer readers... if you've just bought a new DJI Drone or are interested in learning more about how to fly them and get professional videos... You'll probably like our awesome new course: DJI Drones: How To Become The Ultimate Pilot - Fly with confidence, get professional videos, stay safe and get in the air quickly!
The benefits include: 1) How to get those silky smooth videos that everyone loves to watch, even if you're new 2) How to fly your drone, from taking off to the most advanced flight modes 3) Clear outlines of how to fly with step-by-step instructional demonstrations and more 4) Why flying indoors often results in new pilots crashing their drone 5) What other great 3rd party apps are out there to get the most out of your drone 6) A huge mistake many pilots make when storing their drone in the car and how to avoid it 7) How to do all of these things whilst flying safely and within your countries laws.
LIMITED TIME 91% OFF NEW COURSE SALE!!!