While in town for the fantastic All-Energy Australia Expo that recent happened I managed to spot a new entrant into the Home Battery Storage market I hadn't seen before. Pylontech is a Chinese based energy company that has actually been around for quite some time.
With all the stupid high energy prices we have here in Australia and the resultant surge in residential battery storage systems, it's attracted a lot of interest. Pylontech is soon to be releasing their very shmick looking Force H1 and Force H2 residential batteries and we've got all the info!
Who Are Pylontech?
Pylontech is a Chinese company that has been in the global energy storage systems market since 2013. Since then they've commissioned over 1.5 GWh of products and are a vertically integrated company.
This means they don't just glue together other companies parts to make commercial systems. Instead they develop and create everything from the cathode material, lithium cells, BMS and system integration all the way up to the end user product.
They're in over 30 countries world wide and have been in Australia for 5+ years too, so they're not exactly "new". Just new to the residential market. They have products ranging from 12 V DC all the way up to 1,000 V DC and are in both domestic and small to medium on/off grid commercial applications. So they seem to know their stuff!
What Are The Force Series Batteries?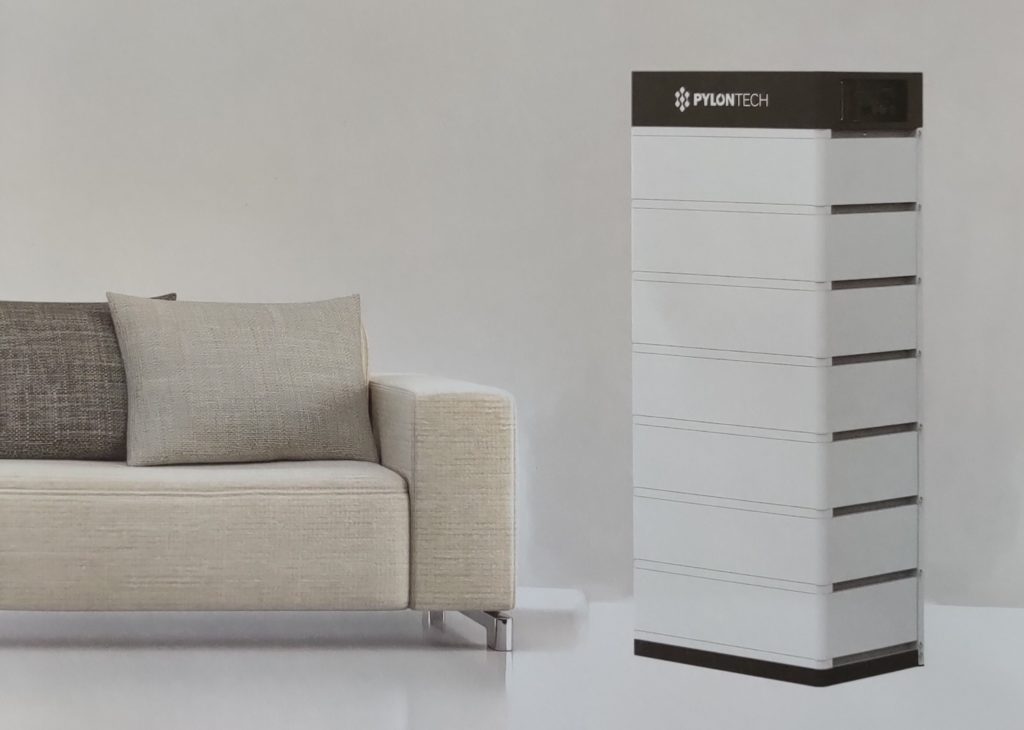 The new Force H1/H2 Series of residential batteries have been in development for more than 2 years now according to Pylontech. This is why you've likely never heard of Pylontech as they've never really sold residential products up until now.
If you look on their website, all you'll mostly see is commercial and industrial scale equipment like raw 25 AH battery cells or 2RU High Voltage Energy Storage battery modules.
But as of Q1 2020, Pylontech will be busting onto the Australian scene with a nation wide availability of these two new products, the FORCE H1 and FORCE H2.
As mentioned I got to see these bad boys in person and they look identical to the image above, albeit without the cool couch. The fully stacked 24.86 kWh unit is about 1.5 metres high and about the width/depth of a pizza box.
The units are made up of 3.55 kWh modules that stack on top of each other… kind of like pizza boxes! You can configure them with anywhere from 2 to 7 modules and you can even join multiple FORCE units together to get up to 120 kWh of storage!
Pylontech FORCE H1/H2 Battery Specs
2-7 Modules @ 3.55 kWh Each
7.1 – 24.86 kWh Capacity
259 kg
90% DOD
IP55 Rated
0-50 Degrees Working Temp
15 Year Design Life
While a Tesla Powerwall 2 only goes up to 13.5 kWh, the Force units top out almost 25 kWh with all 7 modules installed. That's enough to run a typically efficient three bedroom home for 2-3 days.
The fact that you can size it to whatever you want, big or small, is a great benefit too as not everyone needs or can afford a huge Powerwall 2. Maybe you start out with just two of the modules installed and after a few years expand it right up to seven.
Cost wise the final installation bill will obviously vary a great deal. Even getting an estimate of the battery itself without any of the controllers or management systems is difficult seeing as they haven't officially launched them in Australia yet.
That being said Pylontech representatives are estimating they should cost about "$460 AUD per kWh". This would put the cost of each 3.55 kWh module are around $1,600 AUD. If we head over to our Battery Comparison Table we can see how well that compares to the current offerings out there.
The Tesla Powerwall 2 comes in at around $867 / kWh and the absolute cheapest – the GCL 5.6 unit – is $651 / kWh. So these Force series batteries could cause quite the shock to the market if they drop at $460 / kWh!
Provided they're widely available and in stock, can hit somewhere near that price point installed, look as nice as they do, live up to that lifetime warranty and have good battery management systems they could be a huge new entrant in 2020.
If you'd like more info on them they have a PDF with a bit more info here. As for where to purchase one when they do drop, their local distributors are Solar + Solution in Melbourne and Forte Powetech in SA.
For the newer readers... if you've just bought a new DJI Drone or are interested in learning more about how to fly them and get professional videos... You'll probably like our awesome new course: DJI Drones: How To Become The Ultimate Pilot - Fly with confidence, get professional videos, stay safe and get in the air quickly!
The benefits include: 1) How to get those silky smooth videos that everyone loves to watch, even if you're new 2) How to fly your drone, from taking off to the most advanced flight modes 3) Clear outlines of how to fly with step-by-step instructional demonstrations and more 4) Why flying indoors often results in new pilots crashing their drone 5) What other great 3rd party apps are out there to get the most out of your drone 6) A huge mistake many pilots make when storing their drone in the car and how to avoid it 7) How to do all of these things whilst flying safely and within your countries laws.
76% OFF CORONA CONTENT SALE!!!